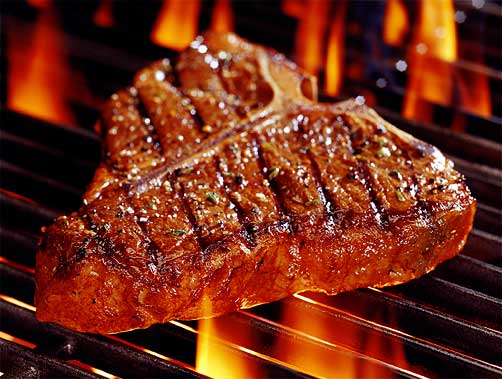 I was attending an event in the city a few months ago and decided to try Ruth's Chris Steak House.  This was my first time, and I was looking forward to sampling their famous steaks.  We arrived 15 minutes before our reservation, and were seated immediately.
Appetizers were looking good, so we decided on the crab-stuffed mushrooms.  The mushrooms were earthy and seared, with jumbo lump crab meat inside.  They were finished with Romano cheese; tasty.  The Ahi Tuna was next; meaty pieces of fish with fresh ginger- also good.
All of the menu items at Ruth Chris are a la carte.  What that means is:  everything is ordered separately, and priced on an individual basis.  For example if you order a piece of steak, it comes by itself; no veggies or starch.  Watch out here, it can become a costly endeavor if you aren't keeping track!
I ordered the Filet Mignon, and my two dinner companions requested the New York Strip Steaks.  We also requested dinner salads, fresh broccoli (topped with a cheddar cheese sauce!), and the highly recommended sweet potato casserole with pecan crust.  My steak arrived in a casserole dish sizzling in butter.  Yeah, that's right, butter!  I sliced into the piece of meat and was amazed….  The Filet was cooked medium rare; it was a taste explosion in my mouth.  The meat was tender and soft, juicy and salty; by far the best piece of meat I have had in the city.  My dinner-mates were also pleased with their choices.  We tried the salads, they were fresh and crispy.  The broccoli was also good- the best part was the sharp cheese sauce (does this cancel out the nutritional properties of the vegetable?).  Our favorite was the sweet potato casserole; it was sweet, creamy, and the pecans added the perfect texture to the dish.
Our waitress was fun and informative.  She was very well educated in the different cuts of meat, and an excellent saleswoman!
We ended the evening with a warm apple crumb tart and a piece of chocolate sin cake- we finished them in a timely manner.
Ruth's Chris is a great choice if you find yourself in the city looking for dinner.  It's not cheap; you can easily spend $75.00 per person.  If you're willing to spend the cash, you won't find a better steak anywhere.
Ruth's Chris Steak House
6 Ppg Place
Pittsburgh, PA 15222
(412) 391-4800