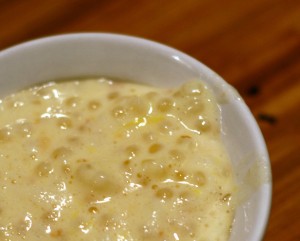 Low Cal Tapioca Pudding
A few months ago I gave up sugar, and refined white flour. I was tired of carrying around the extra 10 pounds, and was determined to lose the extra weight. Although the first two weeks were torture, I am feeling much healthier, and have dropped the pounds. Having a bit of a sweet- tooth, I was interested in finding healthy alternatives to refined sugar. I came up with this easy recipe for tapioca pudding. If you prefer rice pudding, simply add two (2) cups of cooked rice at the end of the recipe. You may also substitute ¼ cup of honey for the sweeteners.
8 cups of milk- you can use whole, skim, or 2%
6 eggs
6 packets of Splenda or Stevia sweetener (or ¼ cup of organic honey)
3 tablespoons tapioca
1 tablespoon pure Vanilla extract
1 tablespoon butter
1/8 teaspoon kosher salt
Place the milk, vanilla, salt, Stevia, Splenda, or honey, and tapioca in a saucepan on medium heat. Cook this mixture, stirring continuously. In a separate stainless steel bowl, beat the eggs until smooth. After 10 minutes, slowly add two (2) cups of the hot milk mixture to the egg mixture while beating with a whisk; this is called tempering. Return the egg mixture to the milk mixture, continuing to stir. At this point, if you would prefer rice pudding, place the two (2) cups of rice in the sauce pan. Make sure that you use a wooden spoon or spatula, and mix until the custard begins to thicken, or becomes nappe (the ability of a liquid to coat the back of a spoon). This usually takes 10-12 minutes. Add the butter to the pudding and mix until fully incorporated. Place the hot mixture into custard cups and refrigerate for one (1) hour, then serve.
Enjoy!
Chef Chuck Kerber
chuck@cooksandeats.com