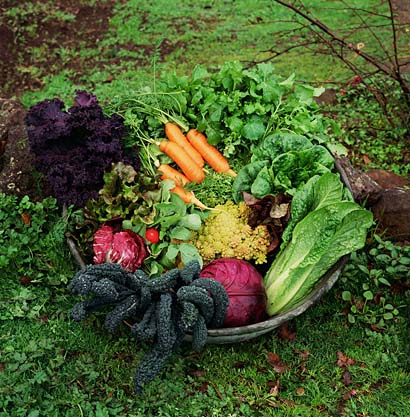 Springtime is here.  It's time to get out your gardening equipment, till the soil, and prepare for your garden.  It's been a long hard winter, but all of that extra snow has actually had a positive effect on something- extra moisture in the soil.  This extra water will help your plants thrive and have an advantage right from the start!  If you're planning on having a vegetable garden, try getting your plants in the ground by Mother's Day (May 9th).  If you prefer to start your plants by seed, now is the time to get them going.    It's ok to start preparing your soil now as well; add some fertilizer, and till the dirt until it is loose, and clumpy.  Check on it from day to day picking out any undesirable weeds, rocks, or other foreign objects.  If it isn't raining in your area, hose down your soil once a week to make sure that the moisture content remains at an acceptable level.  When you're ready to start planting, your soil should be soft, and easy to work with.
Choosing your vegetables and herbs should be a fun process.  Instead of going to a large store, try finding a local organic market that helps support your community.  Supporting small individually-owned stores help funds stay in your particular community; that's good for everyone.
Tomatoes will grow easily in most types of soil.  Instead of choosing beefsteak, try some roma, hybrid, or grape tomatoes; they have much more flavor, and add color and depth to salads and main courses.  Herbs that grow easily are:  tarragon, basil (regular and purple), sage, parsley, cilantro, chives, oregano, lavender and rosemary.  Most types of lettuce will easily sprout up in your garden as well.  Some items that may be difficult to cultivate are melons, asparagus, strawberries, and blueberries.  Try planting different varieties of squash, eggplant, and cucumbers; all of these vegetables are proven growers and are easy to maintain.
The garden season is just starting.  If you haven't had a garden before, now is the perfect time to start.  If you don't have property that will sustain a garden, look around in your community, most neighborhoods have shared gardening areas that are very affordable and often free.
Have fun, and be sure to get your hands dirty!
Chef Chuck Kerber