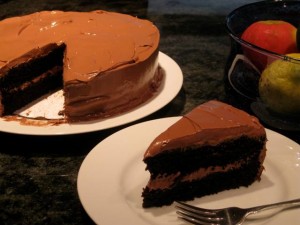 Gluten-free baking used to be a real challenge. Replacement flours (potato, tapioca, sorghum, brown rice, etc…) were difficult to find and very expensive. Now these wheat alternatives are widely available in mainstream grocery stores. Okay, they are still expensive. Low demand and pricey processing methods remain. And these flours can be disappointing. Gluten gives breads and cakes their chew and moistness. Without it, results can be dry and grainy. Enter: Betty Crocker! The brilliant bakers there have come up with some wonderful mixes for muffins, cakes, cookies, and breads. I have tried most of them and have been delighted with the goodies.
But for those of us who enjoy baking from scratch, it's easy to blend some gluten-free flours and adjust a few methods to end up with a dreamy cake. Here's a recipe I've adapted from the Barefoot Contessa's amazing chocolate cake with buttercream frosting. No mix comes close to this:
First, make a blend of cake flour from ¼ Cup potato flour, 1 ½ Cups brown rice flour, plus 1 teaspoon of xanthan gum. We'll call that our "special blend".
Coat two eight-inch cake pans with non-stick spray.
Directions
Sift together dry ingredients:
1 ¾ Cup special blend cake flour
2 Cups sugar
¾ Cup high quality cocoa (I like Droste)
2 tsp. baking powder
2 tsp. baking soda
1 tsp. kosher salt
Mix together liquid ingredients:
½ Cup buttermilk
½ Cup vegetable oil
1 egg yolk
1 tsp gluten free vanilla extract
When wet ingredients are blended, add 1 Cup of freshly brewed coffee and mix well.
2 egg whites, beaten stiff (reserve the remaining yolk for buttercream frosting)
Blend the wet ingredients into the dry ingredients by hand. Work quickly but don't over mix as this will result in a tough cake. The batter will be very sticky and like pudding. Carefully fold in the whipped egg whites with a rubber spatula. Spread batter into the pans evenly. Moisten fingertips with water to smooth out the surface of the batter. Bake at 350 degrees for about 35 minutes, until a toothpick comes out clean. These ingredients do not rise as much as wheat-based batter. Let the cake rest in the pan for a few minutes before inverting onto a rack to cool completely before frosting.
Chocolate Buttercream Frosting
Melt 6 ounces of quality semisweet chocolate.
Whip 2 sticks of unsalted softened butter with an electric mixer. Add 1 ¼ Cups of powdered sugar to butter and blend well. Add 1 tsp gluten-free vanilla and one egg yolk,, mixing till combined. Stir in melted chocolate and blend until creamy.
Thanks for the recipe sis!