Root 174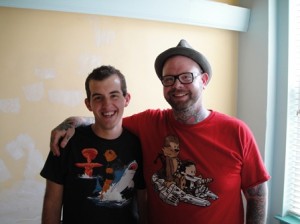 Root 174
There are many perks to living in the east end of town- you can drop off your dry cleaning, shop for some art or clothing, and grab a meal. Over the past five years or so, the food-sophistication level on Braddock Avenue has risen considerably. Back in the day, you would have to be happy with a slice of pizza, and maybe a hoagie, or a dinner salad loaded with cheese and French fries. Now, you can grab breakfast at Square Café, have fresh seafood risotto at Cibo, or enjoy an imported beer with a delicious dog or gourmet pizza from D's. In mid-July, the fine citizens of Regent Square are going to have another choice when it comes to dining- Root 174.
Root 174 will be in the space previously occupied by Legume Bistro, which has moved to Oakland.
I had the opportunity to spend some time with Keith Fuller, the owner and chef of Root 174, and the general manager, William Graves. I was curious about the name he chose for his new restaurant.
"We've been asked many times about the origin of the name. Two different zip codes converge in the east end- what I did was take the two numbers added them up, and took the square root of that number. Roots represent growth and vitality- but most of all, they give back."
Keith is a big proponent of giving back. He believes that his business and employees should contribute to the community as much as possible. He will be encouraging his staff to participate in efforts to help better the east end, and help those in need.
"I will be setting a portion of the restaurant's revenue aside to reward my employees that have chosen to give back to their community."
Kevin lives in Polish Hill, but has always admired the east end of town.
"I really like Frick Park and the surrounding neighborhood; it's a small integral community with a big- city feel."
So, what type of fare can you expect from Chef Fuller? He describes his food as cultivated comfort food. If you're not sure what that means, think of fresh food, prepared carefully with a familiar touch. I was allowed to take a sneak peek at the menu, and although it's not finalized, I saw things like halibut, seared scallops with peaches, and a myriad of vegetarian selections that made my mouth water.
"The menu is a work in process, I'm sure it will change a few more times before we open," Chef Fuller explained.
The menu at Root 174 will be changing constantly depending on the availability of seasonal ingredients, but the chef will have a few staples that will always be offered.
Root 174 will be BYOB, and the menu pricing will range from $15.00, to $25.00.
Chef Fuller has a passion for food, and of equal importance, is concerned about how he and his staff give back to the community. Although I haven't tasted his food, you can bet I'll be first in line when the doors open.
Stay tuned.
Chef Chuck Kerber
cooksandeats.com
chuck@cooksandeats.com