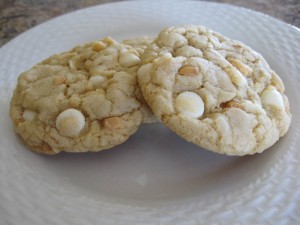 White Chocolate Lemon Cookies
These cookies are very easy to make, and a very refreshing summer treat!
Ingredients:
Flour 2 ½ cups
1 teaspoon baking soda
1teaspoon salt
1 cup butter
Sugar 1 cup
Brown Sugar 1 cup
Vanilla 1 teaspoon
2 large eggs
The zest of three lemons
6 oz. good quality white chocolate chips
Directions:
Cream together the butter, both sugars, lemon zest, and vanilla. Add the eggs, blend well. Combine the flour, baking soda, and salt. Add the dry mixture to the wet mixture just until blended. Add the chocolate chips, and blend until incorporated. Drop by the tablespoon onto a greased cookie sheet, and bake at 350 degrees for 10 minutes, or until golden brown around the edges. Cool slightly, and serve!
Happy Cooking!
Chef Chuck Kerber