Cafe du Jour, East Carson Street, PA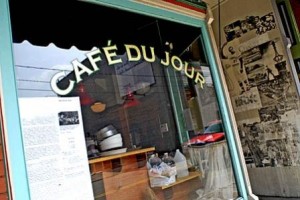 Cafe du Jour, 1107 E.Carson St., Pittsburgh, PA 15203
Rating: High Five
Rating Scale: Flying Chest Bump, Double High-Five, High Five, Down Low, Too Slow
One day you may find yourself slightly tipsy, yet trying to avoid drowning in the greasy quagmire that is typical South Side fare. Fear not, for there's an escape located at 1107 E Carson St. If you don't stumble by the unassuming storefront, you'll find Chef Paul Krawiec preparing rustic French cuisine with the kind of care and confidence that compels one to make their next reservation on the way out. Ashley and I agree the unpretentious charm permeates the entire establishment, from the locally-inspired mural to the staff's uniforms (our waiter sported jeans). The moment you enter the place, the aromas from the near-by kitchen will likely make your mouth water with gastroticipation. Unfortunately, even with the front and back doors open on a windy day, those same aromas later emanated from our clothing. It's a small price to pay for the predominantly delicious fare, though. You'll also find the staff efficient and friendly–so egalitarian in fact they didn't even give us special treatment after seeing me photographing our plates. WTF? Further evidence of it's homely character are the naked tables and simple place setting (one fork, one knife). The noise level was ideal, with the sound level moderated by the subdued tone of the catchy tunes flowing from their highly affordable sound system. The dining area has about six tables; all were occupied by smartly dressed couples in their late 20's to early 30's.
Ashley and I started things off with a pork crostini, the classic crispy launchpad at the Kennedy Taste Center. Sitting atop the bread was succulently braised pork smothered in melted brie and apple butter. For some reason, our waiter felt the need to mention the comforting apple butter was in fact, "made in house". Did the look on my face suggest Smucker's or what? We disagreed on the degree of success sprinkling arugula atop had in lending a peppery element to the otherwise sweet dish, but since she is always right, I concede. Let's move on…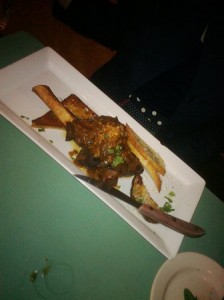 Research shows that I'm 158% more likely to order any salad if chevre is among its ingredients. While this tendency usually ends up working out, this time I got hosed. My salad was almost twice the size, but not nearly as tasty as my date's. Other than chevre, it had spinach, fennel, red onion, a nutty component I can't recall, and over-roasted beets. The garlicky vinaigrette was nice, but not something that would make Emeril do a moonwalk, grab his crotch, and scream, "Bam"! Her salad was primarily spinach, gorgonzola, and roasted squash–topped off with a yummy tomato-bacon vinaigrette. It also had a crunchy element we can't recall, but lent itself to the proportionality of each ingredient, a quality my salad lacked.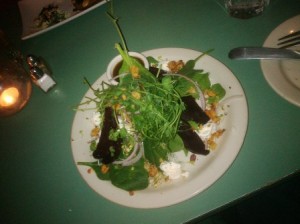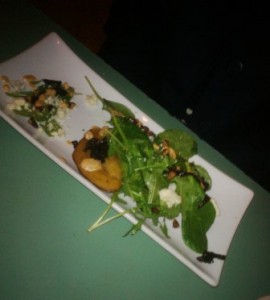 My next selection proved more fruitful. I opted for the trout filet, and it didn't let a good man down–arriving well seasoned with the skin crisped to perfection. Underneath lay hidden some rice pilaf–merci beaucoup! Less successful was the salad that sat atop my filet: The creme fraiche and fennel simply couldn't balance the overbearing presence of red onion. Off to the side was a refreshing little ditty of green apple and fennel fronds that really worked well with the trout. Ashley's dish was also spot on, and I was elated when she couldn't finish it. The lamb was lovingly braised in red wine, making each bite a wonderful little excursion to Tenderjuicyville. They must have had a closeout on squash that day, because the same wonderful component of her salad reappeared as a side dish. Joining the party was polenta that she thought was superb and some freshly baked crostini.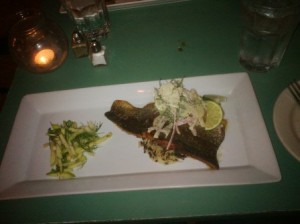 Though we were satisfied from their generous portions, we didn't need no water, let the mutha-fu@ka burn, and ordered some dessert. We passed on the pumpkin cheesecake and went with the flourless chocolate torte with a raspberry drizzle and white chocolate ganache. The fact we don't have a picture of the dessert says it all. It was superior to anything we would have picked up at our usual sweet spot in that neighborhood, Edward Marc (Paul David John Todd) Chocolatier.
Reservations are recommended, and it's handicapped accessible. You'll also need the wad of cash typically reserved for your (friend's) trip to the champagne room at his bachelor party, because they don't accept credit cards. I would comment on the wine list, but it's BYOB. Also, because I'm a medically-imposed teetotaler, my reviews will be focused solely on the grub at hand.
Written by: Chad Bowers