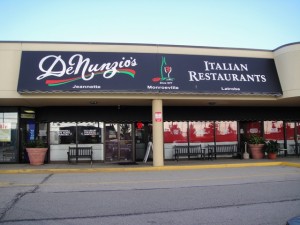 Denunzio's, Monroeville
I'm my continued search for good Italian food in the city of Pittsburgh, I stopped by DeNunzio's Italian Trattoria, in Monroeville, with a few friends. The proprietors have three restaurants; one in Jeanette, the other in Latrobe.
The interior design at DeNunzio's is minimal; nothing over-the-top. Traditional paintings decorate the walls. The booths are stained wood, and match the tables and chairs. There's a particularly cool oil painting of Terry Bradshaw and Chuck Noll in the men's bathroom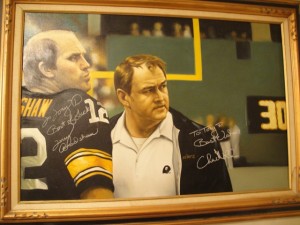 As we sat, I noticed that our table was covered with white parchments paper – I guess they get a lot of families here. It was early, so we opted for non-alcoholic drinks as we surveyed the menu. We weren't interested in appetizers, so we immediately ordered out entrees. Grilled Chicken Parmesan ($14.95), Eggplant Parmesan ($11.95), Angel Hair DeNunzio's ($11.95), and Chicken Picatta ($14.95) were chosen. All of our entrees were served with soup or salad. A bowl of fresh vegetable soup, two Caesar salads, and a regular dinner salad with a basket of bread with a came to the table in a matter of minutes. I ordered extra anchovies, and was pleased to see five large fillets of the salty fish lying atop my salad. Everyone seemed pleased with their food thus far.
The entrees came a few minutes after our salads were cleared (the service is excellent) with average size portions. Each plate (except the pasta dish) came with a side of pasta with marinara, and sautéed zucchini and squash. The Chicken Picatta looked good with its creamy lemon sauce with parsley and capers. I took a bite and was pleasantly surprised at the tenderness of the chicken.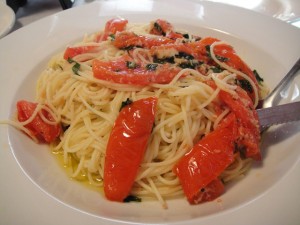 My Chicken Parmesan was a different story; the presentation was awful. There was a large circle of cheese melted on top of grilled chicken with tomato sauce—that was it. The plate was entirely white – no contrast. A small amount of parsley or lemon would have improved the arrangement. The chicken was dry, tasted terrible, and was maybe 4 ounces total. Thin slices of Eggplant Parmesan were tiny as well, but tasted good. The vegetable were crispy and seasoned well. Pasta DeNunzios was tasty with its fresh tomatoes, plenty of garlic, and delicate angel hair pasta.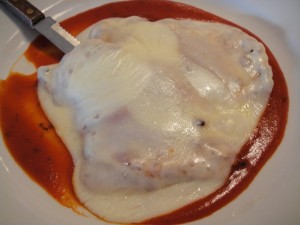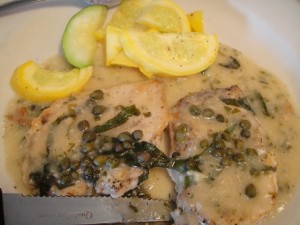 Our meals were average. Are my expectations too high? I don't think so. I'm just looking for some authenticity – I know it exists out there. If you have any suggestions for a genuine Italian restaurant, please let me know.
Happy Cooking!
Chef Chuck Kerber
chuck@cooksandeats.com
De Nunzio's Italian Trattoria (412) 374-7120
Monroeville
2644 Mosside Blvd
Monroeville, PA
15146