Cold Stone Creamery, Pittsburgh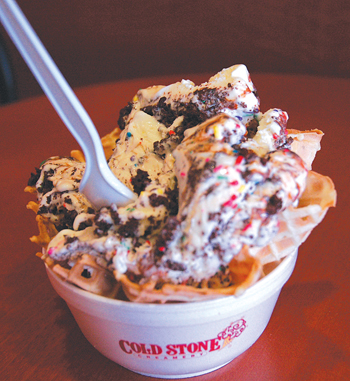 I've been an ice cream fan for some time now.  Heavy cream, sugar, and chocolate…what's not to like?  Not all ice creams are created equal.  Some have little flavor, and bad texture.  Some use chemical fillers, and have gooey chunks of candy in them.  In my opinion, here are a few things that make quality ice cream.  First of all, the percentage of butterfat superiority- the higher the butterfat content, the better the flavor.  Secondly, the density of the ice cream also determines quality.  The less air in the product, the better ice cream you're going to have.  This being said, I've been in search for the perfect scoop of ice cream for a while now.
I was excited to try Cold Stone Creamery Ice Cream.  I hadn't really heard if it was good or not, but the constant lines outside the door made me curious.  One hot summer evening a friend of mine, her son and I decided to try Cold Stone.  Cold Stone prides itself on the quality of its ice cream; it's made in the store after all.  As I was looking at the list of flavors, I noticed something peculiar- the scoopers were placing perfectly good ice cream on a marble surface and were adding candy, nuts, and other flavorings with metal spatulas.  I don't mind some nuts in my ice cream, but please, leave out the bits of "stuff."
I ordered a scoop of chocolate, my friend ordered cake batter ice cream, and her son had a single scoop of vanilla.  "That will be $10.50 please."   Wow, that's expensive for three scoops of ice cream.  Anyway, I wasn't about to complain, I was too excited to try my cone.  The chocolate cone was average.  I could tell that the butter fat content was high, but it lacked true chocolate flavor.  I tried my friend's cake batter ice cream- it tasted exactly like cake batter!  I'm not sure what they put in it, but the flavor reminded me of a Duncan Hines Vanilla cake mix.  The vanilla ice cream was good, but not exceptional.
The ice cream was good at Cold Stone Creamery, but it's very expensive.  I'm not sure what all the fuss and extra cost is about; maybe it's the large marble slabs and show the skilled workers put on.
Try Cold Stone Creamery, and let me know what you think.
Chef Chuck Kerber
chuck@cooksandeats.com
Cold Stone Creamery
(412) 422-2291
Squirrel Hill/CMU
5800 Forbes Ave
Pittsburgh, PA
15217
www.coldstonecreamery.com