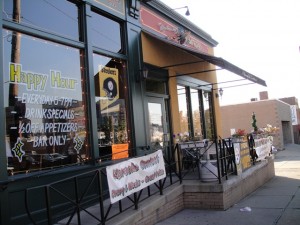 Del's Restaurant and Bar, Bloomfield
On my continued search for authentic Italian food in the city of Pittsburgh, I stopped at Del's in Bloomfield on Sunday evening with my family and friends.
The restaurant looked nice from the outside, decorated conservatively with large windows, seating for 10 or so people on the patio, and fresh flowers – so far so good. Del's Italian Restaurant is actually one of two establishments – on the left is Del's Bar, a small gathering place for locals to unwind, talk and enjoy some appetizers.
So, this is it I thought, I'm finally going to have some real Italian food! As I looked over the menu my excitement grew… Eggplant Parmesan, Chicken with Ricotta and Provolone, Caesar Salad; it all sounded good. As we were trying to decide on entrees, I asked our waiter for an order of marinated carrots- an Italian classic. The carrots came, and I quickly grabbed a few… chomp, chomp, chomp. They were soaked in a seasoned vinegar mixture that made them extremely tasty. The carrots weren't overly-saturated; they still had a crunchy bite to them. We quickly gobbled up the remaining carrots and ordered a few dinner salads. I chose the house salad with bleu cheese dressing, and my sister asked for the Caesar salad. Fresh Italian bread was placed on the table. The bread was fresh and yeasty- but was served with those little plastic butter packets- ugh. For the amount of money we were spending, ($13.00 to $18.00+ per entrée) one would think the ownership would splurge and serve real pats of butter with the bread. We placed our orders: Eggplant Parmesan, Linguini with Clam Sauce, regular Pasta with Marinara, Rigatoni, and Chicken with Ricotta.
My salad was good- the greens were fresh, and the bleu cheese dressing seemed homemade. Still, the dressing for my salad was served in a plastic cup with a lid, cheapening the experience. The Caesar salad was mostly oil, with little or no anchovy flavor, and almost no parmesan cheese.
Our entrees came out looking good; the portions were large, and the food looked fresh. I took a bite of my chicken, and was very surprised- all I could taste was sugar… lots of sugar. It was inedible. I looked around the table and noticed something- all of our dishes, with the exception of the linguini with clam sauce, had the same red sauce on it. I thought that was odd. Thinking I may had gotten a bad bite of sauce, I tried another… nope, still too sugary to eat. At this time, everyone at the table started looking at each other. "This sauce is really sweet." Everyone concurred.
I didn't want to ruin dinner, but I couldn't eat anymore, so I just pushed my plate away. At this point I noticed that everyone else had done the same thing. Our waiter stopped by and asked why we weren't eating our meals. I told him that the sauce was too sweet, and he assured he would make things right, as he ran off to get the owner. A woman appeared shortly thereafter, and squealed, "I hear there's a problem with the food." "Well," we replied, "The sauce is a little too sweet." This is where things got interesting. The owner, and I presume cook (these are her recipes after all), became very defensive. "What, the sauce is too sweet? I sold gallons of this sauce today, there's nothing wrong with it! I've sold way too much to think there's anything wrong with it!"
At this point she was gesturing at the dining room with her hands in the air as if to point out all of the happy diners that were in the midst of enjoying her tomato-sugar concoctions. We asked if she had tasted the sauce lately. "No, of course not… I can't try the sauce… I can't eat everything, look at me." We weren't sure if she was trying to be funny. I thought to myself… I'm a chef; I always taste everything before it leaves my kitchen, how can this woman not taste her food? Even if she's not working in the kitchen, as the owner she's responsible for everything that leaves the kitchen.
She continued – "If you don't like the food that's ok, it's a personal thing." She said that over and over again… it's a personal thing, as if to imply it was our fault that we (all five of us, none picky eaters!) didn't care for the food. At this point she told us that a whole vat of sauce was just made that day, it was fresh, and what was she supposed to do, throw it away??? Here's what I wanted to say: First of all, there was no garlic in this marinara sauce. All marinara has garlic in it, it's a key ingredient. Secondly, why are there green peppers in this sauce? Marinara doesn't contain green peppers. Lastly, why are you yelling at us instead of running to your kitchen to taste the marinara sauce?
The only good that came out of this experience was our waiter voiding the bill. Our server, this poor young kid was so worried that he had turned white, and was sweating. I assured him that none of this was his fault, and gave him $20.00.
The owner was not apologetic. She didn't care if she ever saw us again. Will I return to Del's? Never.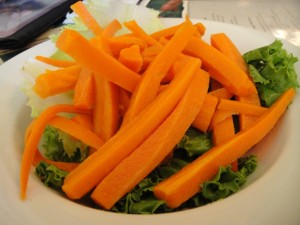 Chef Chuck Kerber
chuck@cooksandeats.com
Del's Bar & Restaurant  
(412) 683-1448
Bloomfield
4428 Liberty Ave Pittsburgh, PA
15224
www.delsrest.com