Chocolate Honey Roasted Peanut Cookies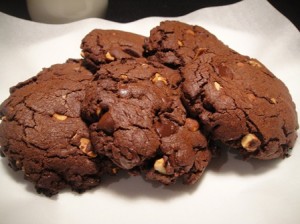 These are some of the best cookies you can make. I mean look, there's one pound of melted semi-sweet chocolate in the batter! Everyone I have made this recipe for loves it. Give it a try- you'll love the combination of sweet, salty, and decadent chocolate.
Double Chocolate Honey Roasted Peanut Cookies
Pre-Heat oven to 350 degrees
Prep time  1 hour
Serves  9
Ingredients:
1 cup unsalted butter
1 cup sugar
1 ½ cups packed brown sugar
2 jumbo eggs
1 tablespoon vanilla
1 pound of melted semi-sweet chocolate
2 ¾ cups of unbleached flour
1 teaspoon baking soda
1 teaspoon salt
1 ½ cups honey roasted peanuts
1 ½ cups semi-sweet chocolate chips
Directions:
Using a mixer, combine the regular sugar, brown sugar, butter, and vanilla. Mix on low for three minutes until creamy. Add the eggs one at a time until they are fully incorporated.
Place the chocolate in a glass bowl, and place in the microwave on high for 30 seconds. Remove the bowl from the microwave and gently stir the chocolate. Keep doing this at 30 second increments until the chocolate is fully melted, approximately three minutes total. Remove the chocolate, and let cool to room temperature.
Slowly add the chocolate to the sugar-egg mixture and beat until blended fully. Add the flour mixture next until mixed.
Next, add the chocolate chips, and the honey roasted peanuts.
Drop on a greased cookie sheet by the tablespoonful, and bake at 350 degrees for approximately 10-12 minutes.
Enjoy with a tall, cold glass of milk!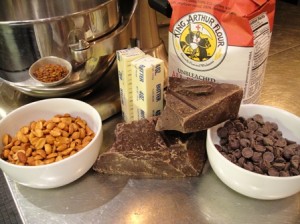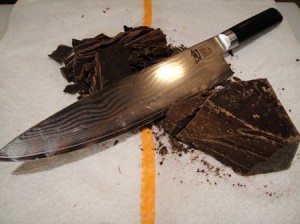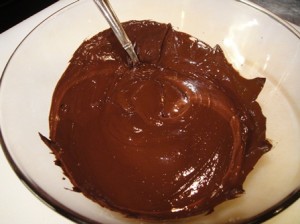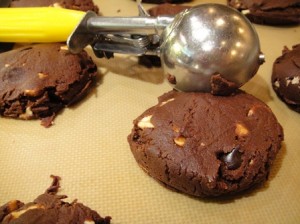 Chef Chuck Kerber
cooksandeats.com
chuck@cooksandeats.com