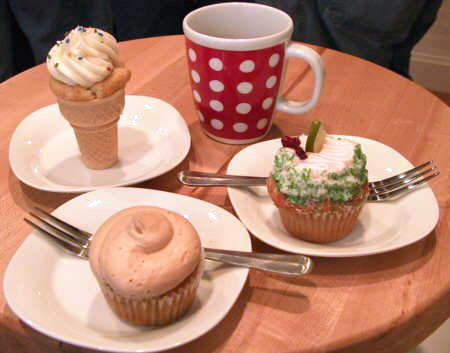 Pittsburgh has finally joined the cupcake cult.
Popular in hip metropolises like New York City, high-end cupcakes are beautiful to look at and an experience to eat.  Some are so pretty that it seems a shame to even think about consuming them.
That sentiment quickly vanishes with one taste of Dozen's cupcakes. With five locations, Dozen is quickly becoming one of the city's most popular bakeries. In addition to cupcakes, the bakery also offers morning pastries, pies and cakes, and vegan options. The Lawrenceville location serves lunch and Sunday brunch in addition to holding themed "PrixFixe" dinners.
But let's get back to the cupcakes. Each day brings a new cupcake menu–everything from Key Lime Pie to Banana Butterscotch Bliss. On a recent trip, I chose the Twinkilicious cupcake and found myself arm wrestling my toddler to get the last bite.
Good cupcakes don't come cheap. At $2.50 each or $25 for a dozen, these treats are meant to be savored and eaten fresh. It's good Dozen doesn't post nutritional information in the store, because it's hard to leave without at least two cupcakes in hand (or in belly).
So take advantage of the pedestrian-friendly Dozen locations in Lawrenceville, Squirrel Hill, downtown, the North Side, and South Side to stroll off the extra calories. And while you're at it, daydream about which cupcake(s) you'll choose tomorrow.
Dozen Bake Shop
Lawrenceville: 3511 Butler St
Squirrel Hill: 1707 Murray Ave
Café at the Warhol: Located in the Andy Warhol Museum
Downtown: 807 Liberty Ave
South Side – 1509 E Carson St