Girasole, Shadyside, PA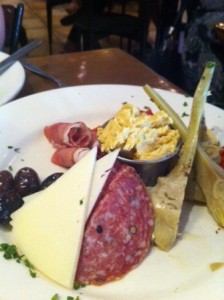 I like Shadyside because there are so many places to eat. Some spots are popular, and others (mostly on the side streets) are not. Regardless of which restaurant you choose, most eating establishments on Walnut Street serve good food.
Girasole is an authentic Italian restaurant off the beaten path. During the summer they have outside seating, if you prefer. When we arrived, Girasole was half-full. The space isn't large, and the wait staff, and patrons had a difficult time moving about the restaurant because of the closeness of the tables. We were seated near a wall with small floor fans (it was muy hot) and began to look over the menu.
There were all kinds of Italian classics; Antipasti, Gnocchi, Spaghetti; it all looked good. We decided to start with the Antipasti Salad. As we were waiting for our starter, a small basket of bread arrived which we quickly devoured.
The Antipasti came, and we quickly dug in. The plate was covered with Italian olives, prosciutto, marinated artichoke hearts (the real ones, not canned) marinated red peppers, salami, and bean paste. All of the items on the Antipasti were fresh and delicious; I especially liked the sweet prosciutto, and the bean paste, which was garlicky and perfectly seasoned.
Our house salad and fresh mozzarella salads were next. Spicy arugula, and fresh, sharp blue cheese were a nice combination. My dinner companion looked like she enjoyed the soft white cheese and fresh tomatoes in her salad as well.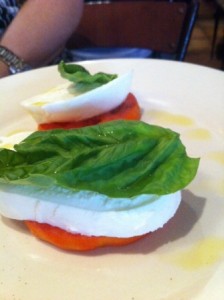 For our entrees, we decided on the gnocchi, and Italian chicken with couscous and veggies. The gnocchi was served with a sweet marinara, and gobs of melted mozzarella.
"Would you like fresh grated cheese sir?"
Yes, of course, and keep it coming.
The gnocchi weren't over-cooked. The potato-pasta held the sauce well, and wasn't too heavy.
The Italian chicken was tasty, with large chunks of artichoke hearts as well as other veggies. The couscous was flavorful, and the red sauce had an extra kick.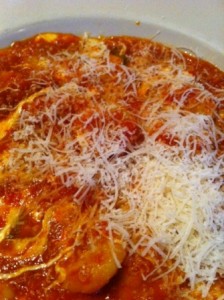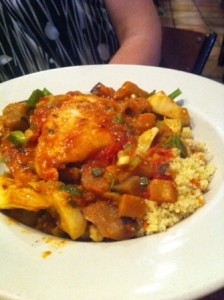 We enjoyed some homemade tiramisu for dessert; a small portion served with fresh berries and powdered sugar- just enough to satisfy my sweet-tooth.
The food at Girasole is carefully prepared and flavorful. The atmosphere is intimate, and can become a bit loud if you come after 6:30. The service is good, and the prices are a bit above average.
Give Girasole a try if you're in Shadyside, and be sure to try the tiramisu!
Chef Chuck Kerber
Cooksandeats.com
Chefchuck@cooksandeats.com