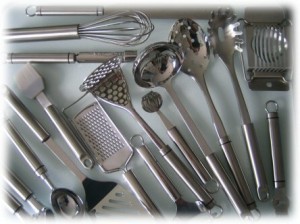 Over the years, I've had the opportunity to help outfit kitchens (many in the east end), professional and personal, with tools and equipment. I often get asked, "What should I buy to get started?"
If you're buying kitchen equipment for a commercial enterprise, or small studio apartment, the basics are still the same.
Let's take a look at what you will need to get started:
We all need pots and pans to cook, but not all cookware is created equal. Make sure to stay away from aluminum. This is considered a reactive cooking material, and can often compromise the integrity of sauces and soups. There is also mounting evidence that suggests food products consumed from aluminum cooking containers may contribute to the onset of Alzheimer's disease. Look for stainless-steel pans, and make sure that the contact points (where the handle is attached to the structure) is bolted, not spot-welded. Pots and pan sets are often sold in department stores at reasonable prices. If you're interested in the pricey, high-quality stuff, try buying one piece at a time. Be sure to get a few Teflon pans for making eggs and crepes too.
Blender:
Every kitchen needs a blender. This piece of equipment can be used for many tasks other than making margaritas (are you listening college students?). Blenders can be used to make soups, purees, coulis, and vinaigrettes. Most blenders are adequate, and can be picked up for $40.00 to $50.00.
I've had my food processor for over 10 years, and it's still going strong. There are two major brands to choose from: Cuisinart and Kitchen Aid. Both brands are equally good (in my opinion), and are extremely versatile. Food processors can be used to make pie dough, bread crumbs, pesto, and even bread.
Often referred to as an immersion or buerre mixer, this is one of my most frequently used pieces of kitchen equipment during the winter months. These hand mixers are used to create emulsions, such as vinaigrettes, and homemade mayonnaise. Buerre mixers are also used to puree cream soups and bisques.
If you're an amateur cook, or a professional, I'm sure you've heard of the brand Kitchen Aid. Kitchen Aid mixers have been around for over 90 years, and for good reason; they're durable, reliable, and can be used for a myriad of tasks. Not only can you whip up a delicious cheesecake, one can also whip cream, make bread, and with available attachments, prepare sausage, ground meat, and homemade pasta. Kitchen Aid mixers don't come cheap, so save up; they're worth the investment.
Other Basic Tools to Consider:
A few pairs of good tongs
Ladles
Bottle Opener
Vegetable Peeler
Thermometer
Rubber and Steel Spatulas
Can Opener
Whisks
Knives (chef's knife, boning knife, serrated, fillet knife, and paring knife- and a steel for sharpening the knives)
Meat Tenderizer
Wooden Spoons
Strainer for pasta and rinsing vegetables
Stainless Steel Bowls
Cheese Graters
Citrus Zester
In no way is this complete list; there are endless kitchen gadgets and tools out there, all with their own specific purpose.
Let me know what your favorite kitchen tool is and I'll add it to the list!
Chef Chuck
Cooksandeats.com
chuck@cooksandeats.com