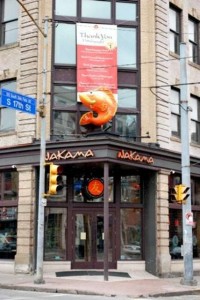 Nakama enjoys a great reputation for being one of the best teppanyaki restaurants in the city. It's a trendy hot spot located in the heart of Pittsburgh's Southside.
Brianna, Marla, and I showed up for our 730pm reservation on Friday night. Unfortunately, before I even hit the door at Nakama, my night was ruined as the Pittsburgh Police Officer, who was playing on his phone on traffic control with the Nakama valet attendants, launched a belligerent tirade at me for…I don't know…being female? Asking a question? Having the guts to politely stand up for myself in the face of obvious intimidation? Anyway, after a humiliating scene outside the restaurant and then a frankly disappointing conversation with the management at Nakama, I took my seat with my friends at our table. Ugh. Let's have fun?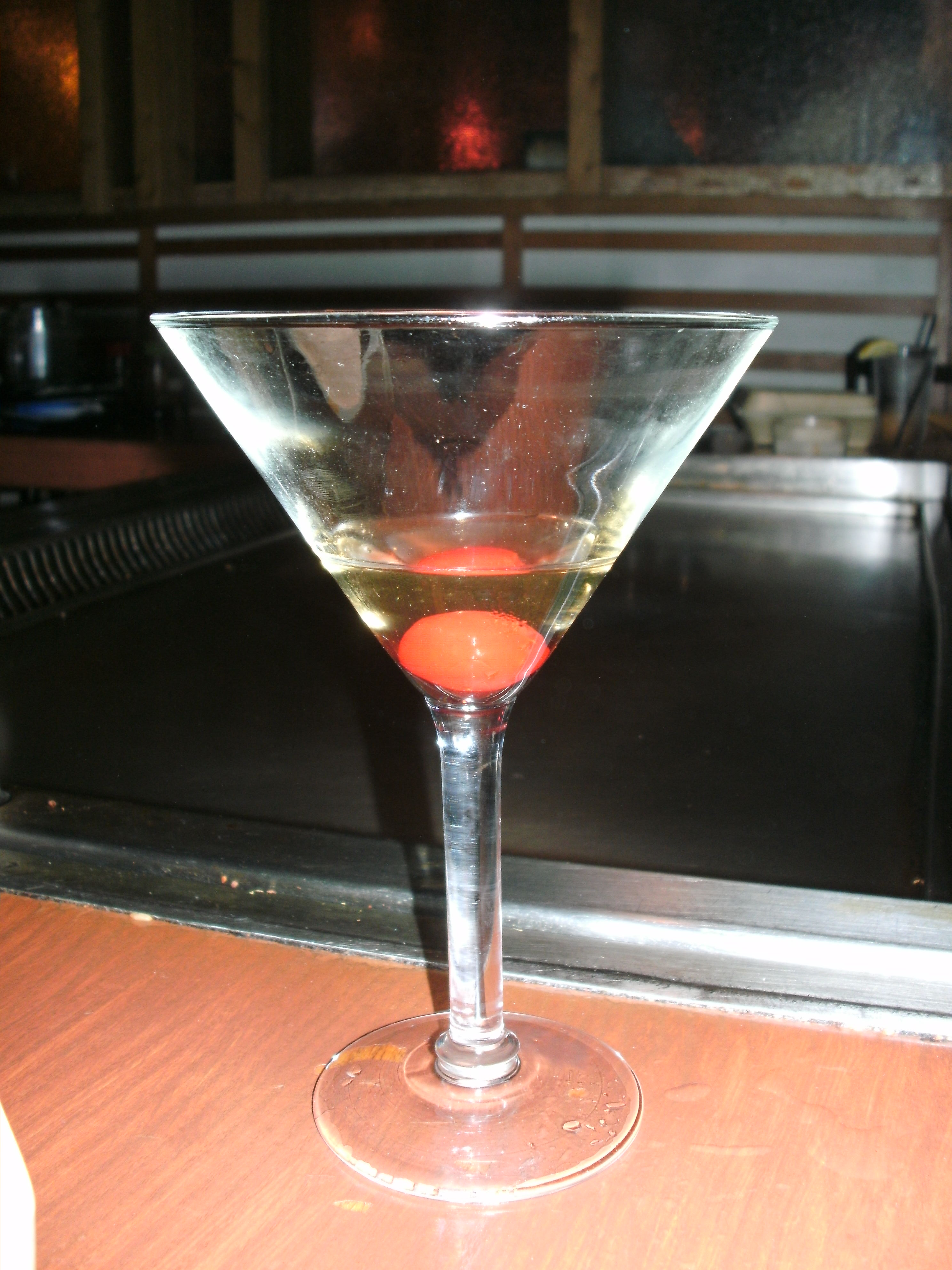 While I calmed down with an Asian Persuasion, Brianna ordered an appetizer of Spicy Tuna maki rolls for us to share. My sister Marla doesn't care for seafood or Asian cuisine, and only came along to explore a new place. She decided to order the Chicken Lettuce Wraps and a side of fried rice. I ordered the Nakama Tuna Steak, medium rare, with fried rice and shrimp. Brianna also ordered the Tuna Steak (medium), with fried rice and mushrooms.
We enjoyed the maki rolls, although I was disappointed that the roll had not been entirely stuffed, the final roll from the end had no fish and barely any other ingredients. Ugh. We made our way through our soups and salads. The restaurant was very noisy and crowded. Our server was very busy, but he was nice. Finally, a chef came over to us and began his show. He seemed to be friendly, and his flaming onion volcano really lit up the room! I love when the flame shoots so high you have to scoot back to avoid the heat!
But do you ever get the feeling that you're supposed to be having more fun than you actually are? I found myself playing along so as not to hurt the chef's feelings, but actually I was bored.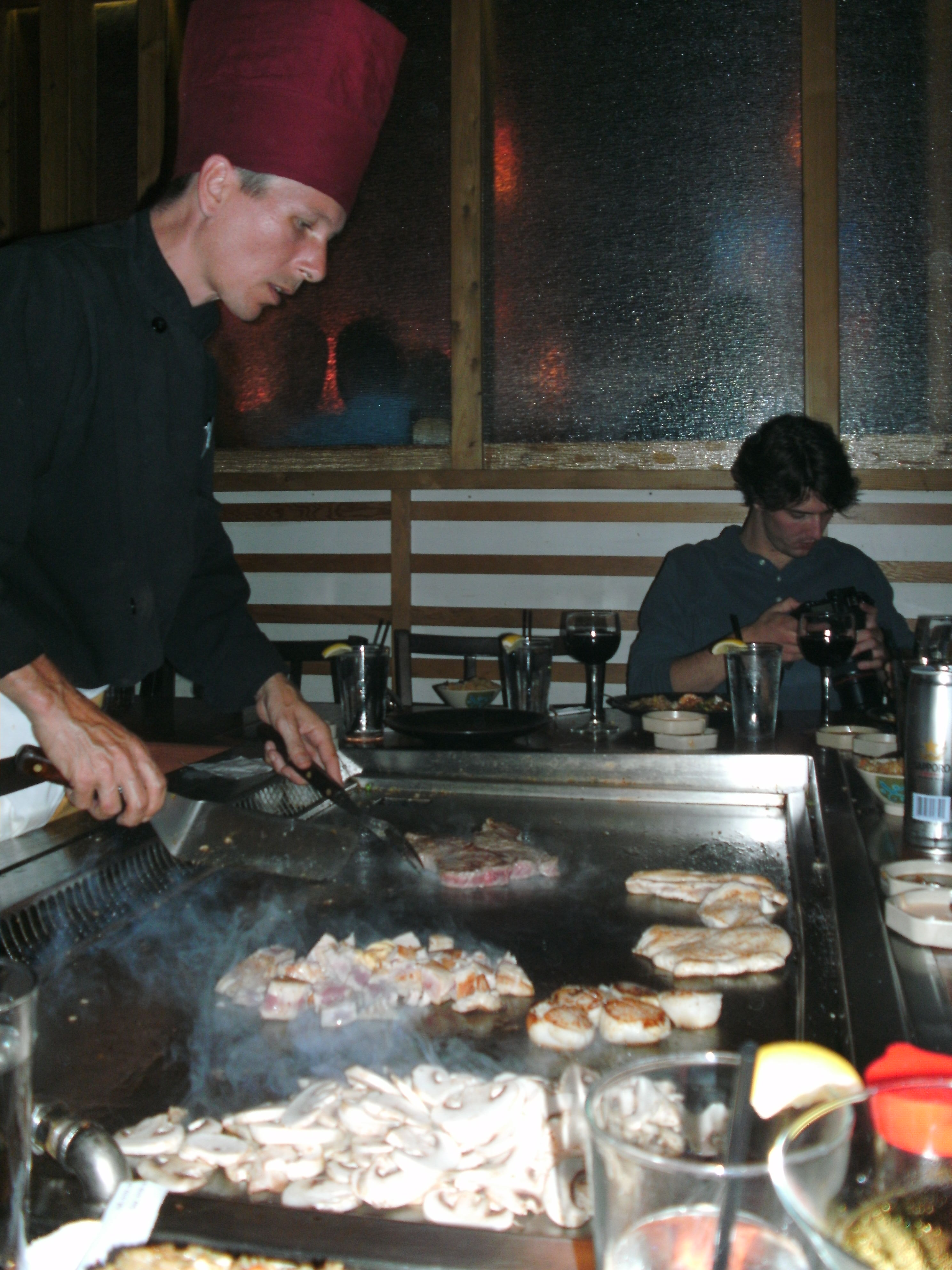 My tuna was fine, though it was overcooked to at least medium or medium well. The side of shrimp was also overdone. The fried rice was the best part of the meal, but overall the dinner was too salty. Marla seemed to enjoy her Chicken Lettuce wraps, and Brianna came away from her tuna happy as well.
As we were finishing up, the guy next to us turned to our group and said, "Do you guys want to join us for Sake-Bombs?"
Of course we said yes! The two couples next to us seemed like nice people. We told them that we weren't exactly sure what a Sake-Bomb is…
First, we were instructed to arrange two chopsticks parallel on top of a half-full (or half-empty, depending on your point of view) glass of beer. Then, carefully place a small shot of sake on the chopsticks. On the count of three, everyone POUNDS the table with their fists, the sake falls into the beer, and you slam it like a shot! AWESOME!! I am not exaggerating…it was one of the coolest things I've ever done. Thanks to those ridiculously cool people for creating such a great, memorable moment of camaraderie. It was the perfect way to finish what started off a disastrous evening.
The good things about this dinner at Nakama had nothing to do with Nakama itself. The service was so-so, the management FAILED as far as I'm concerned. The food was fine, not even close to exceptional. Prices are high. Professionalism of employees and contractors (I'm looking at you, Officer Belligerent) is low. But the friends…the friends were just perfect.