Panera Bread, Pittsburgh, PA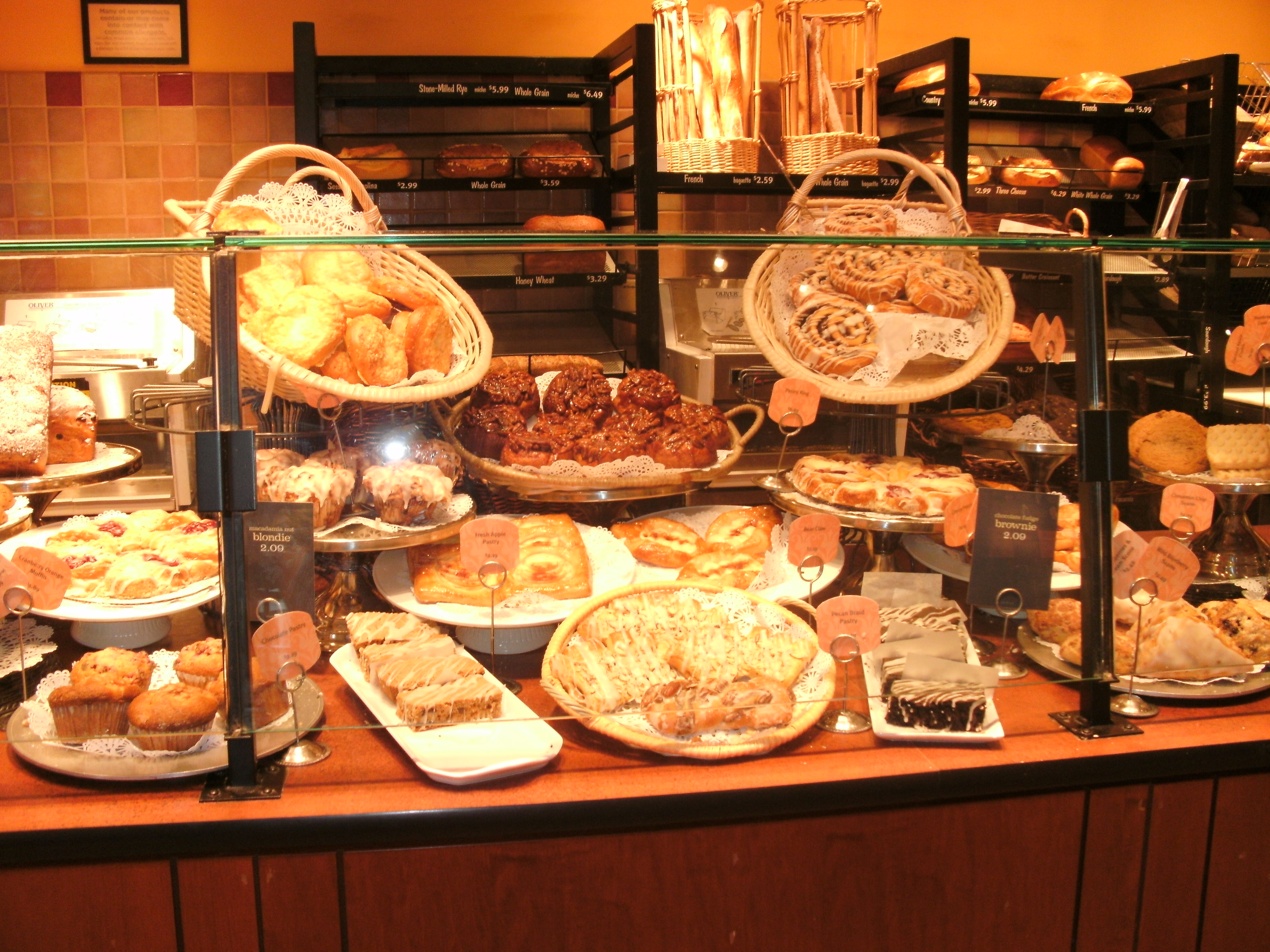 I'm pretty sure I was a fierce hunter in a past life. I like the idea of leaving my house in search of food, with only my hunger and my cunning instincts to guide me. Sadly, I live in the middle of Pittsburgh in the year 2010. I couldn't walk out of my house and wrestle a bear if I wanted to…or could I?
So, Saturday, my hunger and cunning instincts led me to Panera Bread. I walked in not really knowing what I would order. I'd been there before, but I wanted to get the full "Panera" experience. I entered the restaurant and before I was even through the doors, the eager staff greeted me and offered to take my order. I politely told them that I wasn't ready and I stepped back to allow other folks to go ahead. I studied the menu. Soup? Salad? Sandwi-
"I CAN TAKE YOUR ORDER OVER HERE!"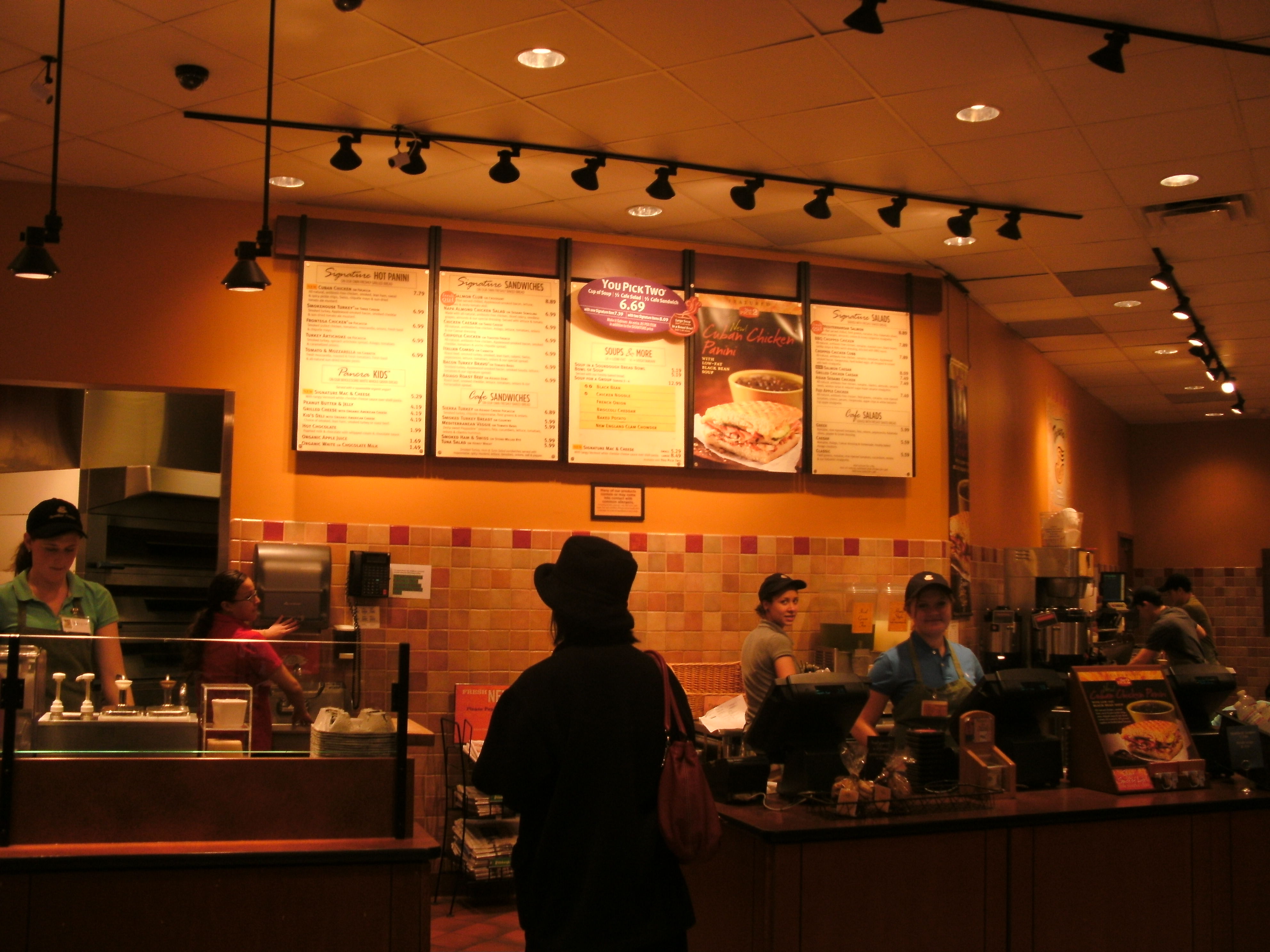 I'm still not ready to order. I just told that lady that, like, ten seconds ago. Sheesh. I'll just step back further and stand by the door. Ok, so I'm thinking I'll do a "You Pick Two" with a ½ Sierra Turkey Sandwich and
"I CAN HELP YOU IF YOU'RE READY!"
Seriously. I'm standing at least ten feet back, there are people all over the place, and I'm obviously staring up at the menu. Is it really necessary to shout every few seconds? I get it. You are going to take my order when I'm ready. I heard you the last time you said it 4.7 seconds ago. Are you worried that in the last 4.7 seconds I decided that I'm ready to order and you might have missed it? How is anyone supposed to think about what they want to eat when there are carnival barkers harassing you from the second you step in the door?!?!
Sorry about that, that was just my inner Larry David being hunger-grump. Anyway, I ordered my lunch and took a seat among the eaters, readers, and laptop users.
I started with my big bowl of Chicken Noodle Soup.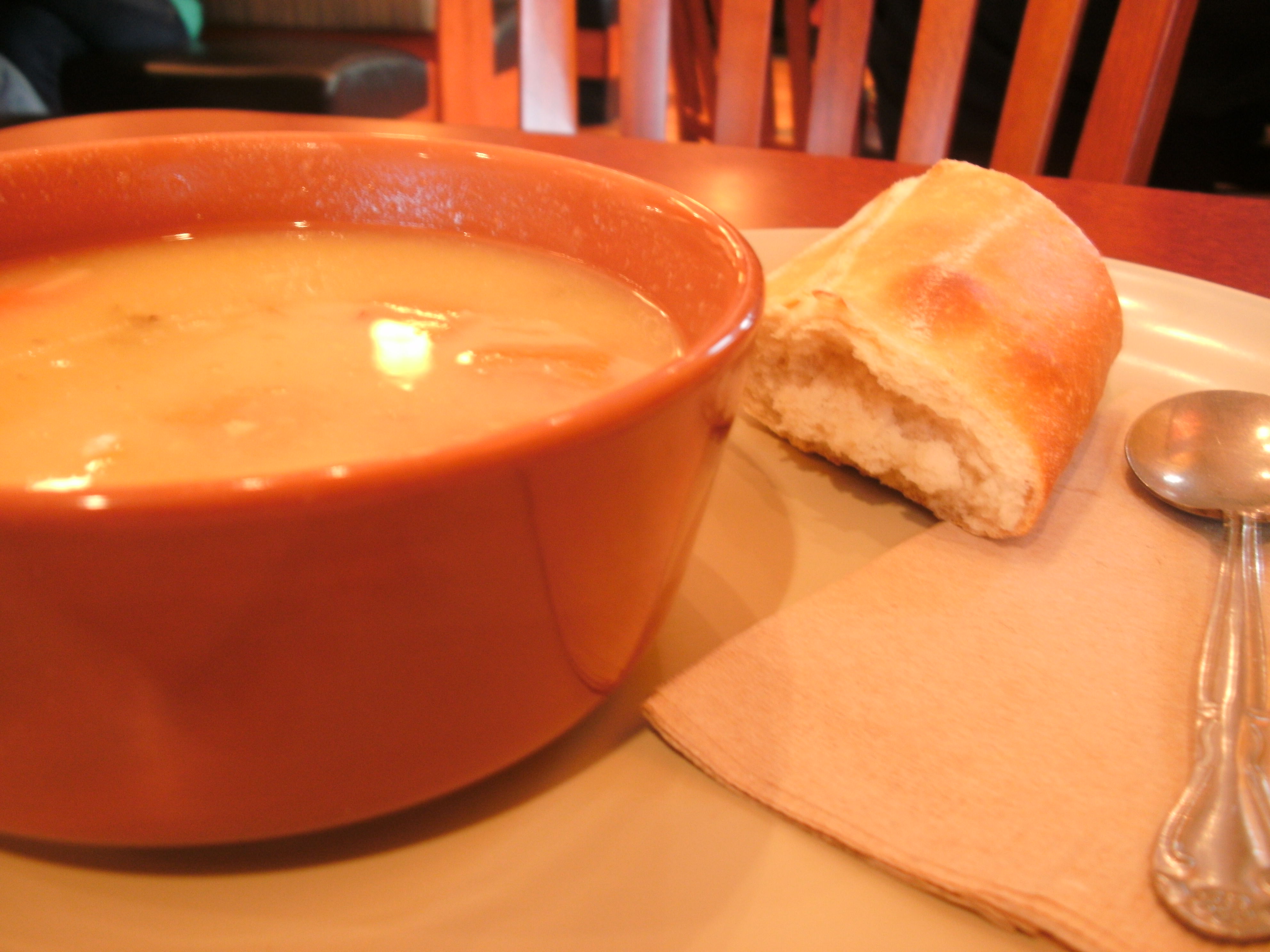 The aroma of the hot chicken noodle soup smelled like home! As I stirred the soup, I noticed large chunks of carrots and chicken, and smaller chunks of celery and onion. The soup was full of thick noodles, though most of them had fallen apart, likely from being stirred all day. It tasted great, nice and salty and herby. This soup was light and comforting. Very good.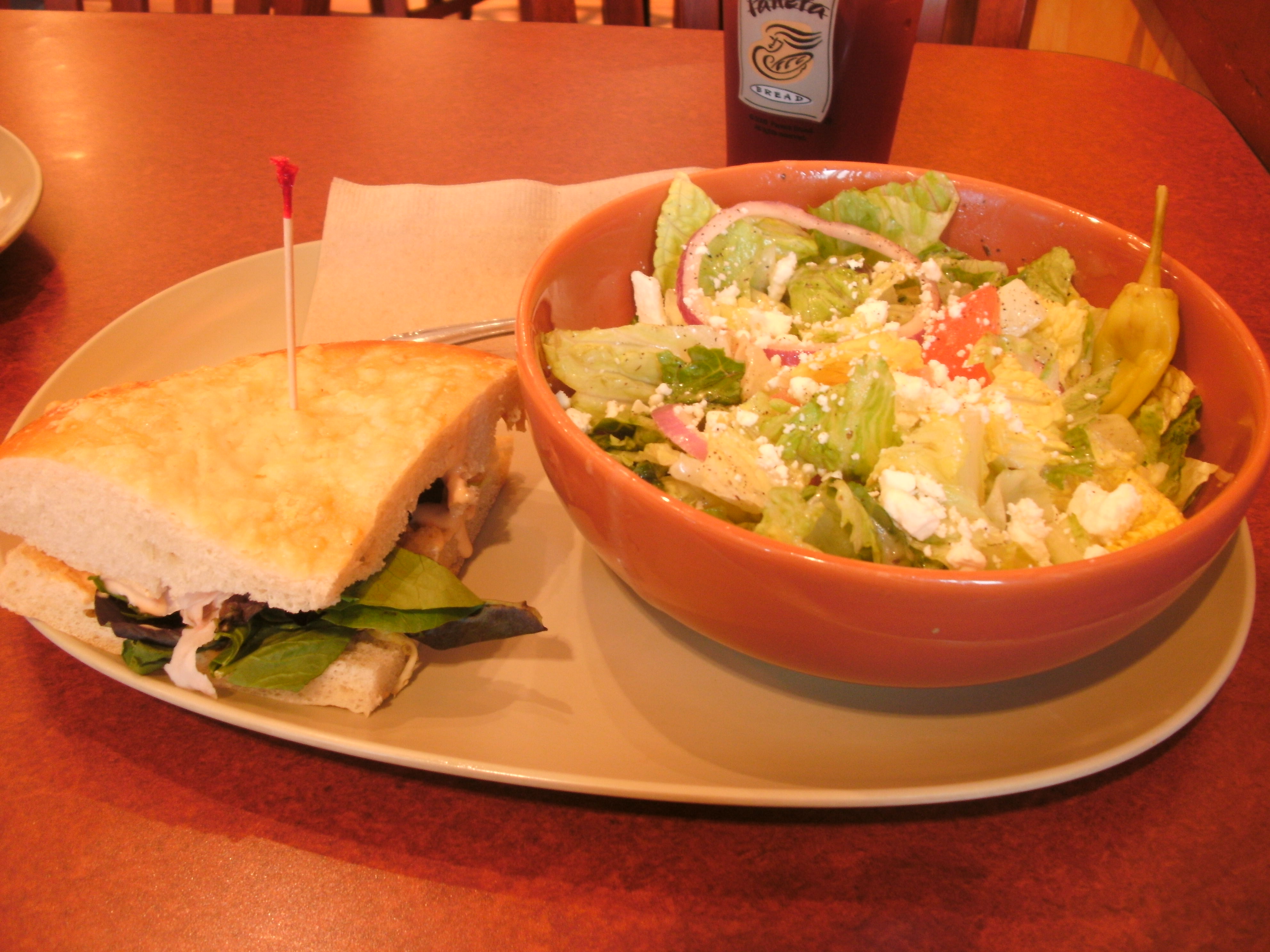 Even though I had already begun to fill up on soup, I moved on to my Sierra Turkey Sandwich and Greek Salad. Again, everything looked delicious! My sandwich consisted of sliced deli turkey, spring mix, onions, and a spicy chipotle mayo. The light turkey and cheesy foccacia was a great base for the robust layers of flavor, first the zesty mayo, then the crunchy, peppery mixed greens, then the final red onion slap in the face. Fantastic!
Greek salads are one of my all-time favorite foods, and I'm happy to report that Panera's greek salad is very, very good! I enjoyed the romaine/iceberg mix, the tomatoes, red onion, pitted Kalamata olives, and loads of feta. The salad came already dressed, and seasoned with a liberal amount of pepper.
Though I couldn't finish off my whole meal, I left Panera feeling satisfied and healthy. I should go there more often!
P.S. I would never actually try to wrestle a bear to eat it. Only for fun.