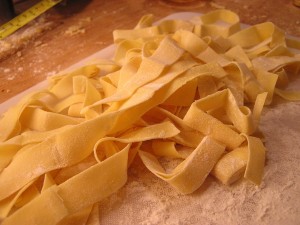 Pasta Dinners, Fede Pasta
If you haven't heard of Fede Pasta in North Huntington, you're about to. Chef Steve Salvi, proprietor of Fede Pasta, has always been passionate about making fine Italian food, and that has translated into his success as a professional pasta maker. With over 100 happy customers, and a steadily increasing customer base, Chef Salvi has moved into a larger warehouse space, and for the first time, has decided to offer Warehouse Dinners open to the public with guest Chefs, and Class Dinners.
Warehouse Class Dinners:
Spend time with the Chef in his environment. Learn to combine flour, eggs and fresh ingredients to produce sumptuous dishes. Experience the fusion of fresh herbs to make rich sauces that complement the various pasta dishes. Bring a friend, family member, or significant other- this will truly be an experience to remember.
Warehouse Dinners with Guest Chefs:
Have you ever wondered what really happens behind kitchen doors in restaurants? Well, this is your opportunity to find out. The intimate Warehouse Dinners with Guest Chefs will allow guests to see, and experience first-hand how professional chefs operate, and what techniques they use to be successful in the kitchen. During these dinners, take some time to enjoy your wine and food courses- ask questions while you watch as the chef prepares your dinner. These small gatherings are an excellent way to expand your culinary horizons.
Below are menus, schedules, and contact information for these upcoming events. Please make sure to reserve your spot soon, spaces are going to fill up fast!
Fede Pasta will be conducting our first Pasta Classes starting in November.
With Thanksgiving around the bend, we will be focusing on how to make several gnocchi dishes for the holiday season.
Menu:
-Sweet potato gnocchi with maple syrup, pecans, and crispy bacon.
-Butternut squash gnocchi with brown butter and sage.
-Pumpkin gnocchi served with cinnamon, rum, and crumbled amaretti cookies.
We will have a night class November 3rd from 6:30pm-9:30 pm and on November 19th day class from 1pm-3pm.
If you are interested, please give us a call for reservations (724)-689-2176.
Seating is limited to 14 people per class.
Cost is $60 per person.
Fede Pasta will be conducting our first Warehouse Dinner on October 20th.
Starting at 7pm, Chef Keith Fuller of Sixth and Penn Restaurant will be cooking an intimate four course Halloween meal.
If you are interested, please give us a call for reservations (724)-689-2176.
Seating is limited to 14 people.
Cost is $80 per person.
Menu:
1st Course
Poached pear salad with gorgonzola, candied walnuts, fresse, cranberries dry, and balsamic reduction.
*2008 Sonoma county ,Frei brothers chardonnay
2nd Course
Chocolate chili braised pork belly, banana rice crispy treat, peanut mole
* 2006 Napa Valley Ducxop Charbono
3rd Course
Pumpkin gnocchi with caramelized onion, sage, and pumpkin seeds, blue hubbard pesto, nutmeg mascarpone
*Dogfish pumpkin beer
4th Course:
House made candy bar bourbon Toffee ice cream
* Bacon infused vodka chocolate Russian