Piccolo Forno, Pittsburgh, PA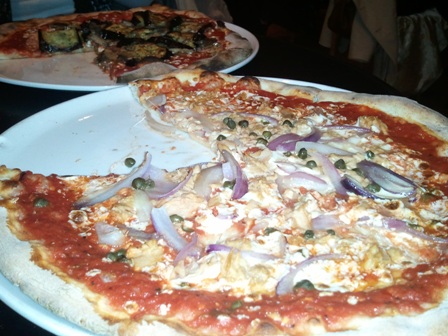 Piccolo Forno, Pittsburgh, PA
Lawrenceville is home to many of the fantastic eateries that folks are raving about these days.  Since my move from Shadyside to Mount Washington, I haven't been hanging in that neighborhood as much as I'd like.  One Friday evening, however, good friend and fellow foodie, Amy and I headed to LoLa (lower Larryville) to try out Piccolo Forno.  Piccolo Forno has become known for its wood-fired pizzas and homemade pasta.  Pizza and pasta?!  AND it's BYOB?!  Why have I not visited this place before?
Amy and I had planned to meet at 6:30pm, but the restaurant was already boasting a two hour wait.  We tucked our two bottles of wine into a handy bottle carrier, and stepped across the street to another Lawrenceville must-try, Round Corner Cantina, for some pre-pizza beers.  Round Corner Cantina is very dark and very hip, but more on that place another time.
When we returned to Piccolo Forno, we waited just a few more minutes before being escorted through the very small, very crowded restaurant to our little table.  Our server immediately began twisting, twisting, twisting the cork out of our WTWB (wine that we brought), as Amy (pescetarian) and I ('Flex') began discussing our dinner options.  As I scanned the other dining tables in the room, I saw complex-looking salads and large (decidedly NOT "piccolo") bowls of pasta.  Then, as though God himself were inviting me to his alter, I laid my eyes upon Piccolo Forno's massive wood-burning pizza oven.   And it was Good.
It seems that all of the pizzas are basically built off of the original Tuscan masterpiece, the Margherita, with crushed tomatoes and fresh mozzerella.  We ordered two pies.  We ordered a specialty pizza from the menu,  the "Tonno e Cipolle" (crushed tomatoes, fresh mozzarella, imported Tuna, red onions and capers), and we added toppings to the margherita for our second pie (eggplant & mushrooms).  Also, I ordered a small house salad to start.
I apologize for not having fresher photos of my meal at Piccolo Forno.  I get all excited and side-tracked and I usually don't remember to take photos until it's time to come up for air.  (I promise to work on that!)  The good news is that photos don't do the food of Piccolo Forno justice.  This was one of the most invigorating food experiences I've had in a long time!  The freshness and variety of ingredients in the house salad provided a wonderful warm-up to my dinner.
I'm having some trouble coming up with the words to describe my anticipation when the server arrived with our pizza.  The topography of the eggplant pizza looked no less mountainous than the surface of the moon.  Thick, round slices of eggplant piled tall in the middle of the pie,  and allowed the fresh mozzarella, sliced mushrooms, and wonderful, simple sauce to fill in around them toward the outer crust.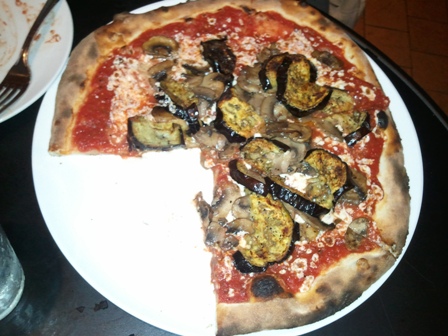 I wish that every pizza was blanketed with such a simple, sweetly-spicy sauce.  Out of all kinds of pizza, I think I must like a simple margherita the best, and Piccolo Forno scored high on my list of the best of the basics.
The Tonno e Cipolli appeased a different, more exotic set of standards.  As a fan of tuna, red onions, and capers, I had a good feeling about this pizza pie.  There was a sweetness to this combination of ingredients, again accentuated by the sweetness in the sauce.  Capers made themselves known in every other bite, and surprisingly, the sliced red onion wasn't overpowering.  The (absolutely perfect) thin, floury crust provided a rustic template for both pizzas.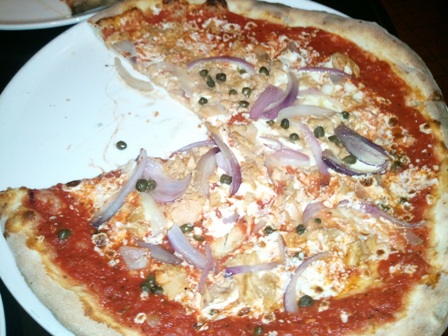 At the time of the meal, I wrote down that I enjoyed the eggplant & mushroom pizza better, but now I'm not so sure.  I found myself pleasantly appeased at every turn!  With every bite, my annoyance at the two hour wait disappeared.  It's worth it.  I hope Piccolo Forno can maintain this quality of food and atmosphere for years to come.  As a pizza fanatic, I am happy that I finally have a place to call my homebase.