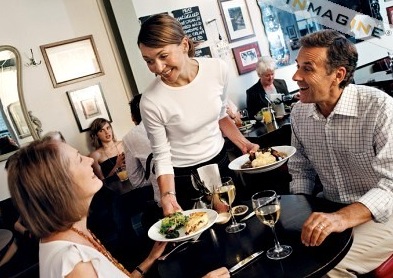 My increased visits to restaurants lately have inspired me to write this piece on etiquette.  There are certain things you should, and shouldn't do while dining out.  Here are a few to examples:
Take the hat off.  It's always been considered to be disrespectful and rude to wear a hat while having a meal.  Be it in someone's home, or at a public restaurant, lose the hat.
Turn the ringer on your cell phone off.  More importantly, don't talk on your cell phone while you're eating.  It still baffles me that people do this.  When was it considered acceptable behavior to talk aloud on your phone while dining?  No texting either.
Never say, "gimme," or "I'll take," to your server, instead try, "may I please have…?"
If you drop a utensil on the floor, it's ok to leave it there.
Learn how to use a fork and knife.  I'm still surprised at the abundance of diners out there who hold forks in their fists.  There's still time to learn!
If you've just come from a run, or some other type of physical exercise, please take a shower BEFORE you come out to eat.  Use lots of soap.
If you have a ½ off coupon, make sure to tip on what the bill would have been BEFORE it was adjusted.
Remember not to drink out of MY water glass.  Eat to your left and drink to your right.  Your bread plate is on the upper-left hand of side of the plate, and all of your drinking glasses (including wine) are on your right.
If you get up to use the restroom, or when you're done eating, leave your napkin on the seat, NOT the table.
Keep your elbows off the table.
Be kind and respectful to your server, their job is just as important as yours.
If you have small children please make sure to keep an eye on them.  Teaching your kids to behave from an early age will benefit us all in the future.
Never snap your fingers if you're trying to get your server's attention; simply make eye contact, or wave your hand.
When you've finished your meal, place your fork and knife on the plate.  This is a universal signal that you are done, and your dishes can be cleared.
Never blow your nose at the table.  Seriously.
If you have a baby or small child, and they make a huge mess, try to tidy up a bit before you leave, and if you can't, add on an extra 10% to the tip.
Pay attention to your dinner mates while they're talking.  If there's a game on the large screen, you can afford to ignore it for 30 minutes.
Thank your server when you leave.
Don't bring drinks or food into the restaurant.
Don't stack your plates, this doesn't help the server.
Dress appropriately.  Don't wear jeans with holes in the rear, tank tops, or go barefoot.  Have some sense!
If you have any additional suggestions, please leave them for me to post!
Chef Chuck Kerber
Chefchuck@cooksandeats.com