Spicy Pork Tenderloin Recipe
My sister visited recently, and made this amazing pork dish; probably the best I've ever had. I'm not sure where it originated, but I imagine it's been passed around quite a few times.
I made this dish today, and our staff and clients really enjoyed it. Give it a try; it's easy to make and delicious.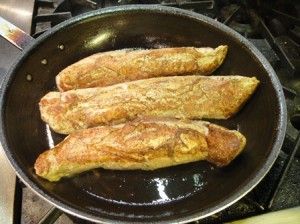 Spicy and Sweet Pork Tenderloin

Serves 4-6

Rub:
2 teaspoons salt
½ teaspoons black pepper
1 teaspoon ground cumin
1 teaspoon chili pepper
1 teaspoon cinnamon
2 Pork Tenderloins
2 Tablespoons Olive Oil
Glaze ingredients:
1 cup packed brown sugar
2 Tablespoons finely chopped garlic (about 6-8 cloves)
1 tablespoon Tabasco sauce
Preheat oven to 350 degrees. Stir rub ingredients together, then coat the pork with the spice rub. Let sit 20 minutes (can be up to 12 hours). Heat the oil in an oven-proof 12-inch heavy skillet over medium heat until the oil is hot and smoking. Sear the outside of the pork, turning, about 4 minutes total. Leave pork in skillet.
Stir together the glaze and smear on top of each tenderloin. Roast in the middle of the oven until the thermometer registers 140 degrees, about 25 minutes. Let the pork stand in the skillet at room temperature for 10 minutes thermometer registers 155 degrees while standing. Slice on the diagonal, and serve, spooning the sauce over the pork.
Chef Chuck Kerber
Cooksandeats.com
chuck@cooksandeats.com