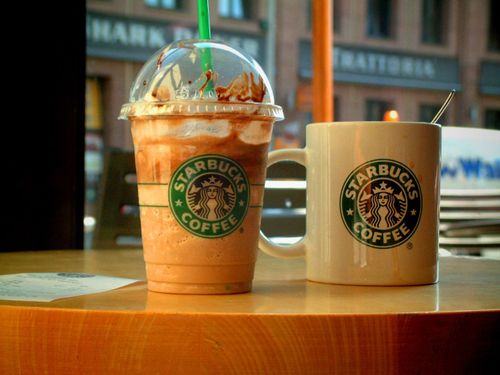 I started drinking coffee three years ago.  Before that, I preferred Diet Coke, or Pepsi; mostly for the caffeine.  I start my day at 5am, so the pick-me-up is necessary, and I would usually grab my first diet soda around 9am.
During the weekends I would find myself working a lot, with seldom fun outings with friends or family.  You see, I'm one of those people afflicted with an overly-strong work ethic; some call it being a "work-a-holic."  It was suggested by a family member that I take some time for myself; "Grab your newspaper, and find a nice coffee shop to sit and relax for a while," I was told.  My first weekend out, I decided to try Starbucks, on Forbes and Shady in Squirrel Hill.  The parking lot was full, so I parked down the street a bit; it was, after all, a nice day for a walk.  I approached the counter and asked for a Venti regular coffee.  I received my brew, and found a seat near the window.  As I took my first sip, I was surprised- this stuff was strong, not like the coffee I had experienced at work, or other small coffee shops around town.  I finished my large drink, and was happy to have completed my first session of "mandated" relaxation.
In the weeks that followed, I found myself enjoying my Saturday and Sunday outings to Starbucks.  I began to get to know the baristas, and some of the patrons.  My new friends and I would sit with our papers, pretend to read the daily news, and talk to each other as we sat with our coffees, mochas and other specialty drinks.  As I began to get to know the employees better, they started educating me about Starbuck's special beans.  They used words like acidity, aroma, balance, body, clean, complexity, wild, earthy, and natural.  I was even told that Bean Masters could tell which region the beans came from, much like master sommeliers can tell by taste where particular wine grapes originate; I had no idea coffee was so complicated.
I continue to get coffee at Starbucks on the weekends.  Sometimes I tell myself that I like frequenting the coffee shop because it's fun to see my new friends and relax, but I have a feeling it's the highly addictive, aromatic, and consistently great coffee that keeps me coming back.
Starbucks Coffee
(412) 422-6113
Squirrel Hill/CMU
2345 Murray Ave #110
Pittsburgh, PA
15217
www.starbucks.com