The Loft, Pittsburgh, PA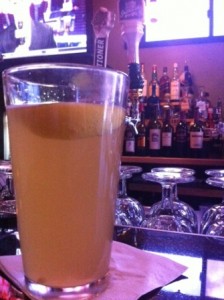 The Loft, Pittsburgh, PA
Katie and I were spent; too much going on in our lives- we wanted a few drinks to help us unwind. It was a typical Thursday night in Regent Square; pedestrians were out picking up their dry-cleaning (trying not to get hit by cars as they crossed Braddock Avenue), having dinner, and running errands. We weren't interested in doing anything productive- we needed cold beer and talk-therapy. Neither of us had been to The Loft, so we decided to give it a try.
The Loft is located above D's Six Pack and Dogz. There's a small glass door that opens up to a long staircase…up, up, up… As I ascended the stairs I had no idea what to expect; I just wanted a cold, frothy brew, and to relax.
We go to the top of the stairs, made a quick right turn, and there it was: The Loft. A surprisingly clean bar, with high end finishes, and an extensive selection of draft and bottled beers, mixed drinks, and yes, even cigars. Impressive. We sat down at the bar and immediately noticed the polished black granite; nice touch.
My drinking partner and I ordered a few pints of Hoegaarden, and were served some freshly-popped popcorn. As we ate the salty, buttery popped kernels of corn, the bartender/manager served us our beers with two large slices of fresh lemon (not lemon-jerky like you find in most bars). Katie and I happily drank away. The beer was deliciously fresh and flavorful- I had never had lemon in beer; it was surprisingly refreshing. We sipped our first drink, and looked around the bar. I noticed how clean everything was, from the floors, to the counters, and even the windows; it looks like the manager may be compulsive about her cleaning schedule. Case in point: I accidentally dropped my lemon on the floor and asked for another. The bartender asked, "Where is the lemon now? It's not still on the floor, is it…?"
The bar is smoke-free, but if you want to light up a cigarette, or cigar, step out onto the small enclosed deck, or into the Man Cave. Yes, there's a Man Cave…complete with recliner, dart boards, televisions, and loud music. Cool.
Check out The Loft if you haven't yet- it's a smaller-sized bar, with an intimate atmosphere…and GREAT happy hour prices. Plus, Katie and I will be there every Thursday night, so come raise a glass with us!
Chef Chuck Kerber
Cooksandeats.com