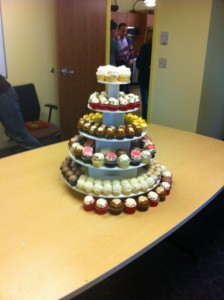 Vanilla Pastry Studio, Pittsburgh, PA
I've never met anyone who doesn't like cupcakes – cake, frosting (buttercream), and a soft wrapper that hold all of that goodness together. Cupcakes have been around for decades, but recently there's been a serious surge in their popularity. One of the reasons for their increased popularity, I suspect, is that cupcakes takes us back to our childhood, a simpler time when the only thing we had to worry about was getting home before dark, and making sure we finished our homework.
Cupcakes are back in a big way, and aren't a passing trend. If you haven't tried these delicious treats recently, you're missing out.
Evolution
When I was kid, there were two kinds of cupcakes, vanilla and chocolate. The icing was sweet, and you could always taste the granulated sugar. These days, bakers have expanded their techniques, thus improving flavor, texture, and vastly increasing flavor combinations. Try a Mimosa cupcake with tangerine icing, or a Mexican Chocolate cupcake with burnt cinnamon buttercream. If you haven't had the Elvis (banana-cake with peanut butter buttercream), or the Passion Fruit, you're missing out. The possibilities are endless; if you can think up a flavor combination, it's probably been made.
Talent
Not all pastries are created equally. Have you ever taken a bite of cake that looks beautiful, but tastes bad? Have you ever experienced a "moist free" cupcake? Well, I have, and there aren't enough glasses of H2O to get that dry cake down. Baking is an exact science; measurements must be precise to maintain a consistent, high-quality product. A perfect cupcake must have certain components in order to be considered perfect. These elements are: a smooth, fluffy buttercream. Next, the cake should be moist, and flavorful. Lastly, the cupcake needs to be visually attractive.
Vanilla Pastry Studio in Pittsburgh
Over the past six months, I have catered several events where the pastries from Vanilla Pastry Studio were served. Some of the pastries and cupcakes that I've sampled are: Vanilla/Vanilla, Raspberry Cream, Coconut (my personal favorite), Chocolate Raspberry, Red Velvet, Toasted Almond, and Pumpkin Spice. The cupcakes are light and delicious – deliriously wonderful from start to finish. Each cupcake is a small work of art; almost too beautiful to eat… I've sampled cupcakes from other bakeries in the area, and I can say with certainty that these are the best!
Not Just Cupcakes
Vanilla Pastry doesn't just serve cupcakes; they have a myriad of other treats to choose from. If you're on your way to the office in the morning, stop off and grab some freshly baked cranberry-orange, apricot, or five-spice scones. You may also want to try the Banana, or Blueberry Buttermilk Muffins.
One of Vanilla's specialties is the Lolly – a small dessert served on a stick. Lollys are easy to eat, delicious, and look, no mess on your hands! Some of the Lolly flavors are: Salted Caramel • Passionfruit Cheesecake • Chocolate Custard • Key Lime Pie • Raspberry Cheesecake • Lemon Cheesecake • Tiramisu • Dark Chocolate-Espresso
Vanilla Pastry Studio also offers wedding cakes, celebration cakes, and seasonal items, and cookies.
If you haven't taken the time to experience the tasty treats at Vanilla, make plans to go. Grab a cupcake on your way home from work and let yourself be transported back to your childhood; just remember to order enough treats for everyone.
For pricing and ordering call: 412-361-2306