Homemade Dog Food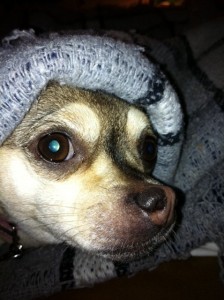 Homemade Dog Food
I've lived in many different neighborhoods in the Pittsburgh area over the years, but I like the East End of town the most because it's close to everything – the parkway, restaurants and clothing stores all are within walking distance.
Something else I noticed when I moved to town 14 years ago – almost everyone in this area has a pet. The most common pets, it seems, are dogs. I've seen Chihuahuas, Terriers, Labs, Golden Retrievers and Pomeranians. If you own a dog, you know how much time and consideration it takes to be a responsible pet owner. You also know that pets can become an important part of the family, so it's essential to make sure they're healthy and happy.
I try to take my dog Sasha for a walk every day, but during the winter months it's just impossible. She gets minimal exercise and is most comfortable burrowing under a blanket for warmth. The combination of her lack of exercise and irregular meals (and too many treats) contributed to her sudden and quite drastic weight gain.
I knew that action was needed, but I also knew that it would be difficult to start her on a new diet, minus the store-bought dog treats. After doing some research, I came up with a homemade dog food recipe. Before you try this for your pet, you may to talk to your vet. I've heard over and over again that you're only supposed to give your dog approved food from an approved provider, but I'm not sure I agree. After feeding my dog with this recipe for the past three months, I've noticed her health improve considerably and she's even dropped weight.
Homemade Dog Food:
You will need:
Sharp Knife
Ingredients:
1 pound each of either, organic cooked chicken, pork, turkey or lean beef
1 cup of chopped carrots
1 cup pureed un-cooked peas
2 cups cooked brown rice
1 cup uncooked oatmeal
The whites of four hard-boiled eggs
Directions:
Cube up the cooked meat and place in the food processor. Pulse the meat a few times, remove, and set in a bowl. Next, place the chopped, raw carrots in the processor, pulse and place in the bowl with the meat. Add the cooked rice and peas to the mixture. Chop up the cooked egg-whites and add them to the meat mixture with the uncooked oatmeal. Using a wooden spoon, stir the entire mixture until well incorporated.
At this point, I place two to three ounces of the dog food in small Ziploc bags and place them in the freezer. Every night before I go to bed, I pull out a bag of the dog food and place it in the fridge so that it's ready for the next day.
This homemade dog food has plenty of protein, a small amount of fat and adequate amounts of fiber to keep your dog happy and healthy.
If your dog doesn't care for peas or carrots, try other veggies. You can also use legumes in place of the brown rice.
Enjoy!
Chef Chuck Kerber
Cooksandeats.com
chuck@cooksandeats.com