Morton's Steak House, Pittsburgh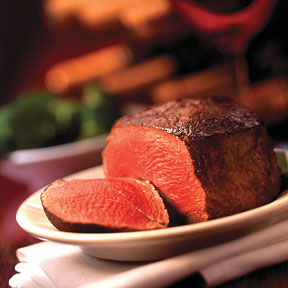 I don't eat much steak, but when I do, I like a good one.  Sometimes you can get a good steak at a regular restaurant, but you will usually need to go to a specialty steak house to get an exceptional steak.  Morton's Steak House is such a place.  They serve Prime, USDA Steaks; good cuts of meat, with the appropriate amount or marbling.
We stopped In Morton's one Thursday evening after work.  I have to admit, I was bit excited because it had been some time since I had a good filet.  Morton's doesn't skimp on the frills, the lighting is dim, the décor is formal (white tablecloths only) and the wait staff are required to wear formal white shirts and bow ties.  We sat, ordered a few glasses of wine, and looked over the menu. The waitress arrived with a platter of specific cuts of meat under saran wrap, and explained the differences between the meats to us (a Morton's tradition).  I had already decided what I wanted, (a filet, medium rare with béarnaise sauce and asparagus), and my dinner mate ordered a filet as well, butterflied (that means cut in half and cooked until the flavor has expired).  I cringed, but that was what she wanted.  We also ordered a few Caesar salads.  After we placed our order, our waitress asked us if we wanted to pre-order a soufflé.  Pre-ordering was necessary she explained; the soufflés take 45 minutes to prepare and cook.  We passed on her suggestion.  Our salads arrived, and as she was serving us, she asked us again if we wanted to pre-order a soufflé; for the second time, we told her no.  The salads were good.  The romaine was crisp and fresh, the homemade anchovy dressing and croutons were a nice compliment to the crunchy greens.  Our salad plates were cleared, and our waitress asked us once again of we wanted to pre-order a soufflé…are you kidding me?
Our steaks came, and we were eager to try them.  My cut of meat was good, but not exceptional.  It was one of the end cuts, closer to the Chateaubriand.  The asparagus was good, but the béarnaise was a little thick.  My dinner mate's arrived charcoal black, as per her suggestion.  She loved her steak, but I'm not sure how that was possible. We had a nice meal, but nothing to write home about.  Our overzealous waitress really took away from us having a nice time.  Her constant attempts to up-sell us not only took away from our evening, but really was an invasion of our privacy.
Go have a steak at Morton's; it's an old-school steak house.  The food is good, but they really need to retire the prior-to-ordering steak and saran wrap presentations.  I just hope, for your sake, that you don't get the waitress that we had.
Morton's Steak House mortons.com 625 Liberty Avenue
Pittsburgh, PA 15222-3111
(412) 261-7141