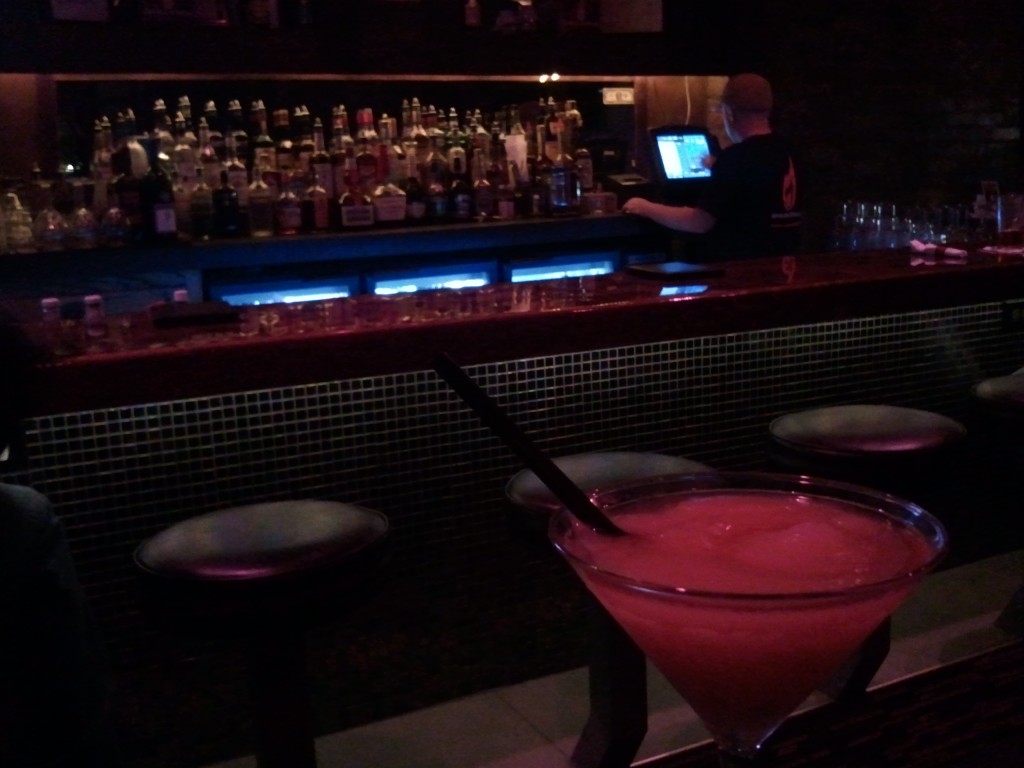 Shiloh Grill, 123 Shiloh Street, Mount Warsh
Shiloh Grill is the newly-opened addition to the Shiloh Street commercial corridor on Mount Washington, taking place of the former Shiloh Inn which closed earlier this year. It is also the brand-new baby sister of Harris Grill, one of my favorite neighborhood bars in Pittsburgh. When I moved from Shadyside to Mount Washington, I was so sad to leave that cozy neighborhood hang-out. What a welcome twist-of-fate that it should follow me up here!
I have now visited Shiloh Grill twice in the past week. The first time was Friday evening with Ryan. I was so excited to end the week with good food and drinks with friends, I stupidly forgot to take photos for this post! So, I went back a few days later for dinner, equipped with my phone and my hungergrump.
Shiloh Grill looks quite a lot like Harris Grill, although the bar seems smaller and the dining rooms seem bigger. In the bar, the dark blue walls are accented by exposed brick, and on one side, a big HDTV. The beautiful bar is supported by mosaic tiles of green and blue and, in the right light, a sort of metallic oil-spot look. Behind the bar, taps and bottles are well-lit and well-stocked. Andrew Bird, Fleetwood Mac, and David Bowie composed just some of the music filling the room. The menu seems to be largely the same as that of Harris Grill.
On my Friday visit, Ryan and I took advantage of the weeknight's Happy Hour specials: Half-price frozen cosmos (a house specialty), drafts, and wings from 430 until 630. I started with a frozen cosmopolitan, which was slushy and slightly sour. Ryan enjoyed an Ommegang Hennepin draft (or two). He and I shared "A Fantasy in Fried Feta", three fried sticks of feta, with red pepper coulis for dipping. The cheesy appetizer tasted good, but I personally think they should throw in one more stick to make it even. Cutting the third stick for sharing caused it to fall apart.
As a newly-declared vegetarian, I am proud to announce that Shiloh's menu offers no fewer than 15 vegetarian possibilities! I chose the Garden Weasel: grilled zucchini, portabella cap, tomatoes, onions, red peppers, mozzarella cheese and basil pesto mayonnaise. The meaty portabella cap made me forget that I wasn't eating meat. Ryan loved his Craw Full of Falafel with tater tots…that kid love his tots!
This Wednesday after work, I went back to Shiloh, hoping to take better notes and snap some better photos. Unfortunately, since the lighting is so dim in the bar, the photos didn't turn out much better this go around. Sorry!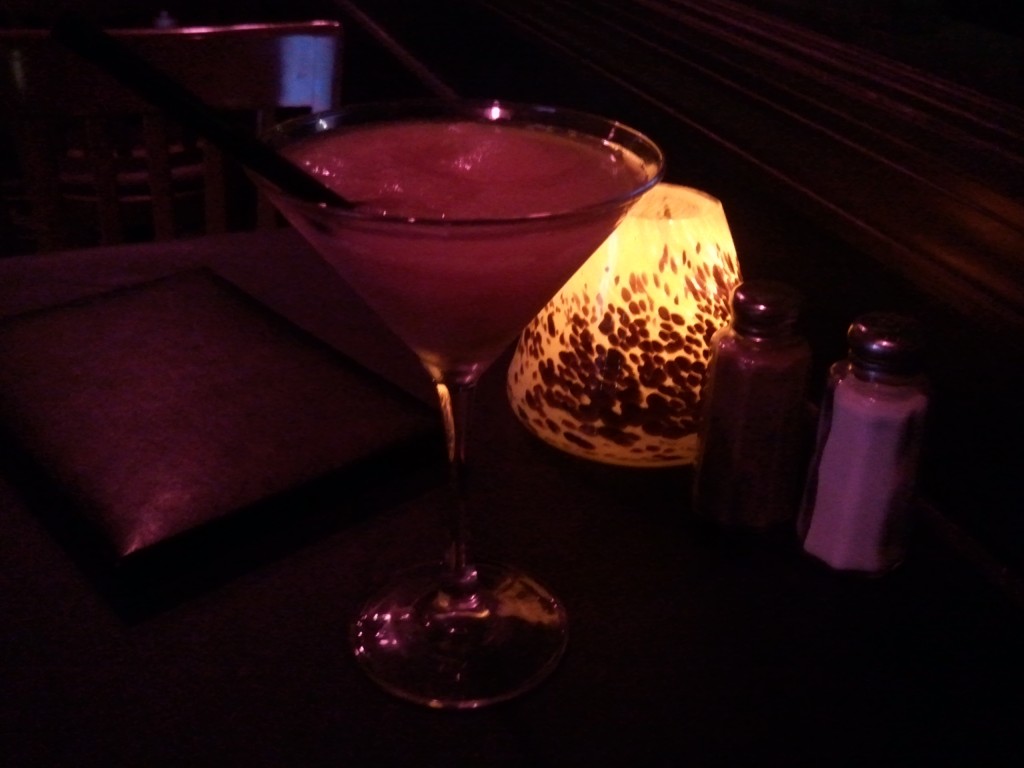 Anyway, I ordered up another frozen cosmo, a bowl of vegetarian chili, and a mini Greek salad. In my original review of Harris Grill, I praised the crap out of the Greek salad, and this smaller version is just as good. Chopped iceberg, tomatoes, black olives, red onions, and feta come lightly dressed with Greek-herb vinaigrette. This refreshing salad presented a nice cool counterpart to the spicy chili! The chunky vegetarian chili, made up of large kidney beans, tomatoes, green peppers and onions, held a significant amount of heat! Though I love spicy foods, I was glad that the chili was adorned with a generous dollop of sour cream and a pita chip! Festive! I finished off every scrap and drop of my meal, and the best part? The whole thing only cost me $12.72!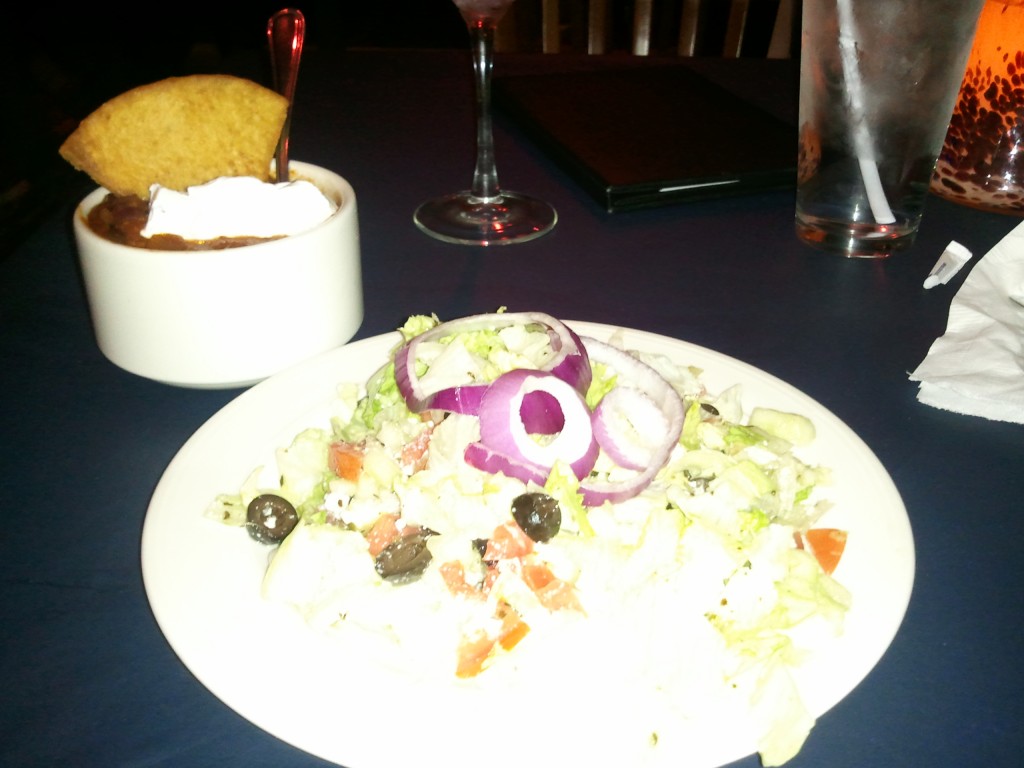 Shiloh Grill is an excellent addition to the casual dining scene on Mount Washington. Service was excellent for both of my visits (Thanks, Indeia!) Shiloh Grill offers something for everyone: bar food, vegetarian options, sandwiches and burgers, and fancy Pittsburghy entrees (Langostino Lobster Macaroni and Cheese, anyone?). These first two visits will surely be the first of many!