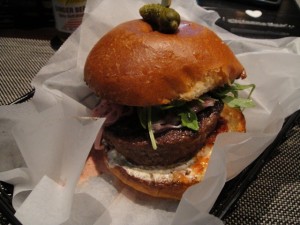 If you've been keeping up with our restaurant reviews, you may have read my recent article on Spoon. Spoon is an eclectic restaurant in East Liberty with carefully prepared, delicious food. Brian Pekarcik, the Executive Chef and owner of Spoon, recently opened up another eating establishment next to Spoon. The new restaurant, Brgr, can be described as a contemporary burger joint, with a heavy dose of sophistication. Brgr, located at 134 South Highland Avenue, enjoys a prime location in the east section of town that has recently experienced a rejuvenation of sorts. New businesses have been popping up in this section of the city, attracting a diverse and loyal clientele.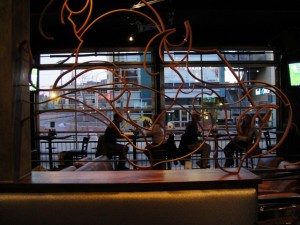 The décor of Brgr is understated yet sophisticated. The front of the restaurant has large glass garage doors that provide an excellent view. I imagine, in the summer when the large doors are open, this will be a prime location for people-watching. There's plenty of room in the dining area, so you don't have to worry about bumping into your fellow diners, and the wait staff has ample room to move around comfortably.
Drinks:
Brgr has a fun drink menu. I ordered a Jamaican Ginger Ale. It was spicy, and had a heavy ginger after-taste- awesome. We also got a Spiked Float (a Brgr specialty with booze) which included root liqueur, local seltzer, and vanilla bean ice cream. Here's the cool part- the waitress finished off the drink with an old-styled seltzer bottle! The drink was refreshing, and the rich vanilla ice cream was a nice combination with the root liqueur. My favorite beverage was the Dark Horse Brewery Special Black Bier- it was thick, rich, and had many layers of complex flavors. If you prefer lighter drafts, Brgr carries 14 from which to choose.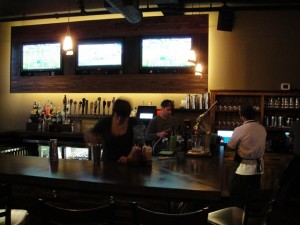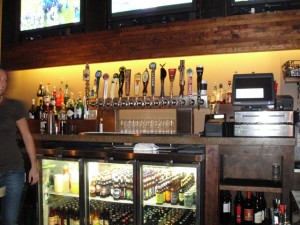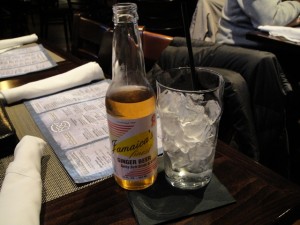 Food:
The menu at Brgr isn't complex, but it covers a wide variety of selections. If you're not in the mood for a beef burger, you can opt for the Gobble Gobble ($7.00). This turkey burger is served with pickled green beans, crispy stuffing, and cranberry aioli. If you're a vegetarian, try The Tree Hugger ($8.00), a lentil and falafel burger served with sour cucumbers, tomato, red onion and goat's milk yogurt. We chose the Salmon Burger ($9.00), 6 oz. of wild king salmon with cucumbers, tomato relish, apple-wood smoked bacon and caper aioli. Also ordered- The Tree Hugger, Kobe Beef Burger ($13.00) served with pickled onions, arugula, creamy blue cheese, and oven-roasted tomatoes (add fois gras for $12.00). A spicy Fire in the Hole ($9.00) was chosen by one of our more adventurous guests; it comes with guacamole, jalapenos, pepper jack cheese, and chipotle mayonnaise. Burgers come without fries- (order for an additional $4.00). If you're not interested in having a burger, try a Smith's local hot dog ($5.00) a BLT Salad ($7.00), or the Greek Salad ($9.00).
Our food arrived in 10 minutes- we were all a bit surprised and quite happy because our hunger had really set in. All of the burgers were served in a small metal basket with parchment paper. When I took my first bite of the Kobe burger, I noticed how sweet and soft the bun was. The yeasty roll was toasted with butter, and reminded me of a good brioche. The Kobe beef was cooked medium, and was juicy and well seasoned. The creamy blue cheese and spicy arugula were a tasty grouping of flavors and texture. The cool roasted tomatoes were naturally tender and fresh. I tasted the falafel burger, and was pleasantly surprised at the generous amount of spices in the mixture- the goat's milk yogurt cooled off my palate, and the cucumbers, tomatoes, and red onions readied my mouth for another bite. The salmon burger was fresh, and the soft chunks of salmon were perfectly cooked and tasty. The French fries were definitely a high-point; the thin, crisp strips of potato were salty, and covered with fresh parsley- the portion was generous; plenty for two to three people to enjoy.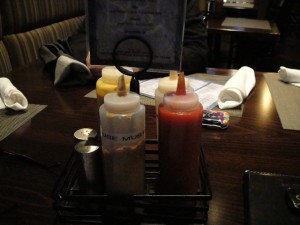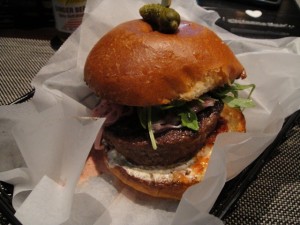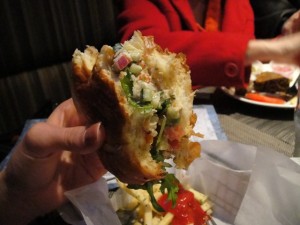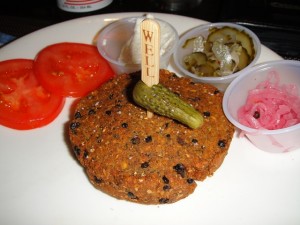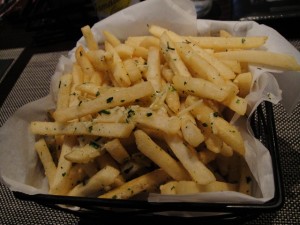 Dessert:
Desserts include a cookie ice cream sandwich ($5.00), and a chocolate brownie ala mode ($6.00). We decided to try another house specialty, their milkshakes. A vanilla bean milkshake arrived in a large, stainless steel cylinder filled with creamy goodness. The oversize green straw assured that each mouthful of this delicious, smooth concoction was delivered appropriately. Yum.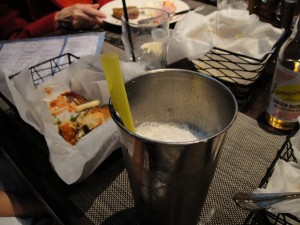 Service:
Service at Brgr is excellent. From the time we entered, we were treated with great care. We were seated immediately, and introduced to our waitress. The drink order arrived promptly, as did our food. Our waitress was very knowledgeable, and easy to talk to.
Conclusion:
Brgr is a fun place to eat- its hip, contemporary vibe is comfortable, but not trendy. The high-quality of food and drink will surely impress you. If you're looking for a great burger at a reasonable price, swing by Brgr for a meal with your family and friends- just make sure to get there before 6pm, the place is packed almost every night.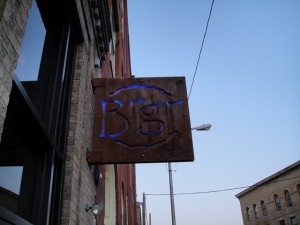 Brgr
(412) 363-2333
East Liberty
5997 penn circle south
Pittsburgh, PA
15206
www.spoonpgh.com/lounge.php