Cibo, Pittsburgh, PA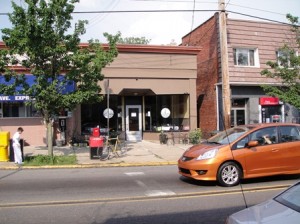 Cibo, Pittsburgh, PA
If you're a reader of cooksandeats.com, you know that I've been in search of a good Italian restaurant for quite some time. What makes a good Italian Bistro? That's easy- pasta that's not over-cooked, a spicy marinara (leave out the extra sugar please), a bold Bolognese with plenty of nutmeg, and some good rustic Italian bread. You'd think that wouldn't be too difficult to find in a city as sophisticated as Pittsburgh. Still, good Italian fare has eluded me for a while now, so I still search…
Cibo, in Regent Square is the owned by Dino DeFlaviao. If you live in the east end, and don't know who Dino is, you must not know the areas as well as you think. Prior to being Cibo, DeFlavio's Pizza occupied the space that is now the new Italian restaurant. Cibo has only been open a few days, but so far the food has been received well by the East End crowd.
Atmosphere:
Cibo is a small, intimate restaurant. The walls are covered with rich, warm colors (reds, and oranges) and beautifully finished wood tables and chairs are spread throughout the open space. All of the tables are covered with white linens, and perfectly polished utensils. The vibe at Cibo is casual, kind of a "come as you are" setting- one would be ok with a sport jacket or a pair of shorts on a hot summer day. The tables are situated close to each other, but it's still easy to hear your dinner mate regardless of how many other patrons were in the restaurant. Cibo is BYOB.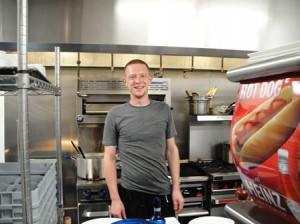 Food:
Eric Schwartzmeier is the Chef at Cibo, and although young, has some obvious talent. We started with his cold seafood salad with blanched potatoes, shrimp, mussels, clams, poached shrimp, and fennel. The cold seafood was especially delicious on this particular evening, because it was so hot outside. The mussels and clams were sweet and salty like the sea, and the large shrimp was perfectly cooked- the fennel added a nice contrast to the delicate taste of the fresh seafood. The lemon dressing was tart, and the fresh basil on top of the salad provided a fragrant after-taste.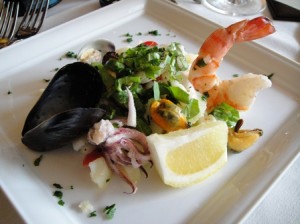 After we finished our salads, were served some sliced Italian bread which was given to us by itself; maybe a small amount of butter, or herbed dipping oil would have been a nice accompaniment.
Seafood Risotto was next, and probably our favorite dish. Huge shrimp, more mussels, and a tomato-based seafood broth surrounded the dish. The food had a bit of a kick to it, which made us both happy. The taste combination was great, and we quickly devoured the rice, and soft mollusks.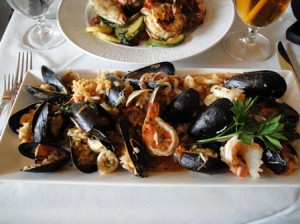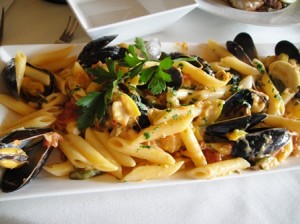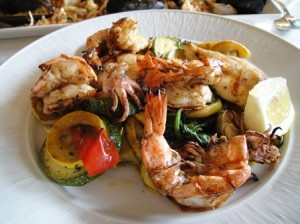 Another seafood dish arrived with penne, more enormous shrimp, and baby clams. The penne was cooked, but not over-cooked (finally, someone who knows how to cook pasta!), and the creamy seafood sauce coated the ridges on the penne. This particular dish was rich, and I quickly lost track of how much pasta I was consuming.
The dessert selection at Cibo is limited for the time being- only Italian ice is available. Although delicious, I would really have liked to have had some tiramisu!
Service:
We had excellent service. Our needs were not only met, but anticipated.
Cibo is a nice, small Italian bistro that serves authentic Italian food. The menu has representative offerings, and most likely will accommodate picky eaters, and even vegetarians. The portions are very large, so keep that in mind while ordering.
If you find yourself in the east end, Cibo is definitely worth trying.
Chef Chuck Kerber
Cooksandeats.com
chuck@cooksandeats.com