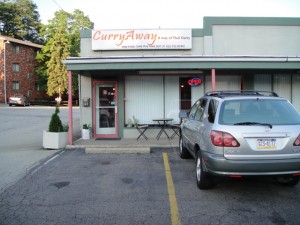 There's a peculiar stretch of road in Edgewood/Swissvale- amidst this rural, quiet neighborhood sits a small, commercial lot with a few businesses- there's a chiropractor, Laundromat, used car lot, convenience store, and Thai restaurant… Curry Away- that's the name of the restaurant that resides here, and pay attention, or you'll drive by without ever knowing it was there. The outside of Curry Away looks similar to the other businesses that it sits next to- inconspicuous. The inside is small….very small- six tables in all, with seating for 18-20, max. The walls are a pleasant orange-ish color, with a few framed photographs on them; that's it for the décor- minimal to say the least.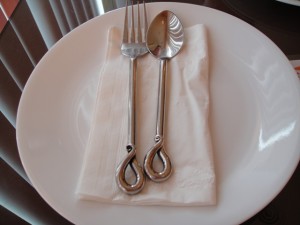 We started with an order of Summer Rolls ($4.95). They arrived quickly with a small sauce cup full of peanut sauce. The rolls were fresh, but lacked flavor. The tofu inside tasted like vinegar. The roll was filled with iceberg lettuce, thin noodles, and a few leaves of mint. I really missed the flavor…where was the fresh cilantro and Thai basil? Ugh.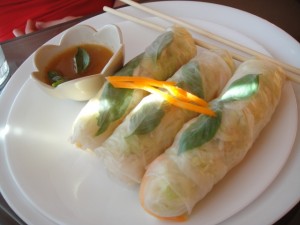 We ordered Pad Thai ($10.95) and Pumpkin Curry ($10.95) for our entrees. As we waited for our main course, we watched as another table was seated. These new guests got a lot of attention and copious amounts of food- I'm suspect they were friends of the owners. Our Pumpkin Curry arrived first, smelling delicious. The strong aroma of coconut juice paired with pumpkin was intoxicating. We placed a small amount of rice on our plates, the ladled the thick pumpkin broth over it. On top of the sauce we carefully placed the veggies that came with the dish- large carrots, sweet peppers, and chunks of pumpkin. The flavors were amazing. The thick broth was sweet and hot, and the vegetables were cooked perfectly. The chunks of pumpkin were firm to the bite, and sweet. Never before had I experienced a Pumpkin Curry that was so harmonious with its flavors.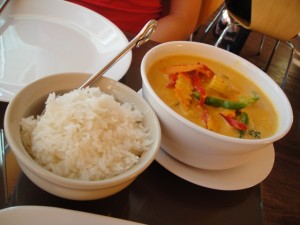 The Pad Thai was delivered next, and was equally as flavorful. The thin noodles were saturated with sauce, bean sprouts, egg, and crushed peanuts. My only complaint here- more noodles please!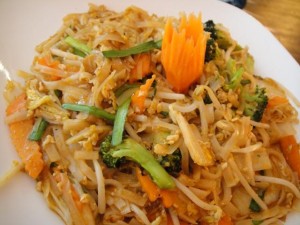 Service at Curry Away is efficient and courteous, and the atmosphere is pleasant. If you're looking for some Thai food, and like spicy curry, stop by.
Curry Away 247 Edgewood Avenue Pittsburgh, PA 15218 412-731-0740