Eggs-R-Us, Pittsburgh, PA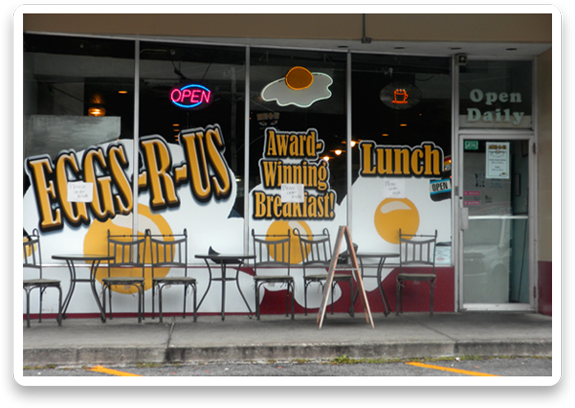 A while back, I reviewed Pamela's, a trendy breakfast joint in Shadyside. Although Pamela's has a great reputation, I was disappointed. As a follow-up, I'd like to introduce you to a diner that I do love. It's called Eggs R Us, but please forgive it's ridiculous name. The breakfast speaks for itself.
The restaurant is located in a small strip mall on Noblestown Road in Crafton. It doesn't stand out much; in fact, it's kind of hard to find. I'd like to encourage you to try, though. It's the home of the best simple, home-style breakfast I've had in a long time.
I've been there several times, so this review isn't a reflection of one particular visit. I'm just going to highlight some of the best things this place has going for it. I'd like to mention that this isn't a terribly expensive breakfast, but then again, I'm used to overpaying at places like Eat & Park. Breakfast and coffee for two usually costs us about $16.00.
First, and perhaps most importantly, there is a three foot tall Foghorn Leghorn doll in this dining room. Foghorn Leghorn is holding a basket of Easter eggs, and yes, he stays out all year. Oh, and he's wearing a Steelers jersey! I know, I know. You're already on your way there. But wait, there's more.  You may choose to sit under the "Breakfast at Tiffany's" movie poster or under the "Blue Plate Special" poster which features Elvis, James Dean, and Marilyn Monroe eating at Heaven's Diner.  Yes, it's goofy.  But it's also a lot of fun.
Of course, we start our breakfast with a cup of coffee, and Eggs-R-Us brews a pretty good cup!  Maybe it's not the best cuppa joe I ever had, but it's tasty and hot and the servers are always there to refill your mug. That is very important for a diner, and Eggs-R-Us knows it.
We usually go to Eggs R Us on Sunday mornings, and although the place is bustling, we've never had to wait for a table. To be fair, we have seen other people wait, but never longer than ten minutes. The restaurant is busy and loud, and that's probably due to the kitchen being right in the dining room. The food and restaurant supplies are all out in the open, so it does have a bit of a cluttered look. Folks seated at the bar have the pleasure of watching their breakfasts being made. It may seem more chaotic than I'd usually prefer, but I like that the food preparation is all done in front of the guests. No worries, if you know what I mean.
The best breakfast I've had at Eggs-R-Us is the veggie omelette. I usually go for green peppers, mushrooms, and tomatoes with cheddar cheese. You get your choice of home fries or hash browns (home fries, please!) and it comes with Italian toast. The home fries are excellent! Fried up with peppers and onions, those spicy spuds are my favorite part of the meal.  Yes it's basic, but it's good basic, and I think that's what breakfast should be.
On a separate occasion, I enjoyed The Breakfast Tour, which consists of two eggs, two breakfast meats, a pancake, AND Italian toast. The scrambled eggs were fine, but once I loaded them up with hot sauce they were very good!  I wasn't nuts about the hunk o' ham or the bacon, but I probably couldn't have eaten them if I had wanted to…I had a flapjack to finish! The pancake was huge, and it made me wonder…if this is a regular sized pancake, what the hell is that "MANCAKE" I read about in the menu?! I love it here!
I'm not going to say that this is the best breakfast I ever had. But I would say that it's at least as good as your Eat-N-Parks or your trendy stinkin' Pamela's. The food is great, the atmosphere is light and cheery, and the kitsch is top-notch.  It would be the perfect place to visit for breakfast on a Steelers Sunday or anytime after church (those things seem to go hand in hand around here…).  Just don't go too early.  I don't want to wait for a seat.