Eleven, Pittsburgh, PA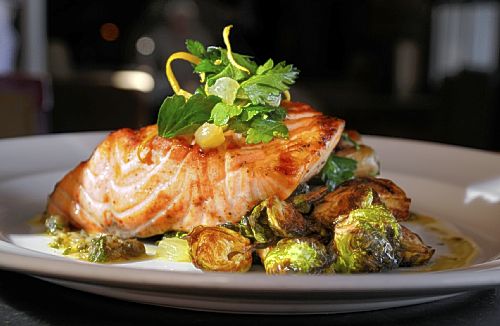 I've heard nothing but raves about the burgers at Eleven in the Strip, so a trip to a member of the Big Burrito restaurant group was in order. We decided to go informal and sit in the bar. As we entered, I noticed that the entire establishment was very dark. We were greeted by a very kind hostess who escorted us to the bar area. There were high top tables and some very comfortable looking plush chairs situated right by the windows. We pushed two high tops together to accommodate our group of six.
A waiter came over right away and passed out drink menus. Because it was so dark, he passed out those little lights that you would have on your keychain in order to find the keyhole to get into your house when it's dark! The drink menu was quite nice, but a little bit pricey. Some of the choices offered were the Leven-ade, which is Absolut Raspberri vodka, house-made lemonade, and raspberries for $9, and Crimson & Clover made with blood orange juice, honey, Tanqueray gin, and amaro for $11. I chose the Pear-secco, made with Absolut Pears vodka, pear nectar, and Prosecco sparkling wine for $11. Our waiter was very efficient and aware of our needs. He was also very personable and friendly – not overbearing. Our drinks arrived fairly quickly. I couldn't wait to taste my drink, even thought it was smaller than I had expected. It was very "peary," which was good. It smelled like a fresh pear in a glass. It tasted pretty good too! A little dry for my taste, but still good.
We looked at the menu, deciding what we were going to order in addition to our burgers. For appetizers, we decided on the soft pretzels with cheddar cheese-beer sauce and Maldon sea salt, edamame with white truffle oil, Maldon sea salt and togarashi, and the roasted brussel sprouts with anchovies. I did not taste the pretzels or edamame, but they disappeared from the plate pretty quickly. I was too eager to pick the anchovies off of my sprouts and dig in! Heaven. They were lightly crisped, topped with a light sprinkling of cheese. I ate the entire thing. By myself. And I wanted more!
The timing was perfect – we finished our appetizers and our burgers arrived. Angus beef, braised veal, black pepper bacon and crispy onions with a side of fries. You had your choice of cheese – cheddar, Maytag Blue, gouda, goat cheese or Emmenthaler Swiss. I chose the Maytag Blue. You may think $14 is a little pricey for a burger and fries, but when you see it, you'll change your mind. Let me tell you a little something about this burger. It was big, probably 1/3 to 1/2 pound of meat, and it smelled fabulous. No need for ketchup, mayo, pickles, etc. This burger was just fine the way it was. I put the top part of the bun on and dug in. Just one word for this – YUM.  The burger was cooked just as I had ordered it and it was juicy. The contrast of the burger with the texture of the braised veal was to die for. And bacon – who doesn't love bacon (on everything)?
I can't say enough good things about it. All in all, my experience at Eleven was great, except for the fact that I couldn't read the menu without a key light. You must go and experience the Eleven Burger for yourself.
Eleven
– www.bigburrito.com
1150 Smallman Street, Pittsburgh – 15222
Written By, Carey Knapp