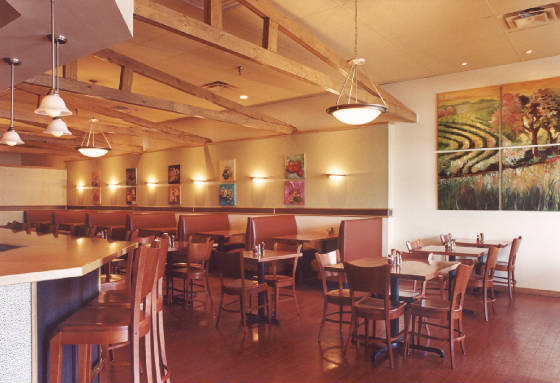 Harry's Pizza, Pittsburgh
A co-worker has been telling me about Harry's Pizza for a long time. A couple Saturdays ago, one of the first autumn-ish days of the year, Ryan and I took the thirty minute road trip to Harry's in McMurray.
It was lunchtime, and Harry's wasn't crowded. We followed a kind hostess to our table and ordered a couple of pops (or "sodas", if you're weird.) I felt right at home at Harry's. The design is sort of rustic: exposed wooden beams line the ceiling, Impressionist paintings of simple foods adorn the walls. Soft lighting and soft acoustic rock greet you with all the intensity of a warm hug. Large (huge, really) pizza ovens take up the left side of the restaurant, and the food preparation area is visible to all patrons. The staff at Harry's seemed clean and friendly, and man oh man they had mad pizza skills! Those are the best kind of skills.
Ryan and I started with two small salads with Harry's Original dressing. Beautiful! Lush mixed greens topped with Gorgonzola cheese (are cheeses capitalized?), croutons, kalamata olives, roasted red peppers, and a nice garlicky vinaigrette. It was one of the best dinner salads I've ever had. The flavors meshed perfectly and the portion was very good for lunch.
Our lovely waitress brought our small pepperoni & mushroom pizza next. I wish I could bottle that amazing aroma and wear it every day! (Oh, who am I kidding…I probably smell like pizza everyday anyway.) I began to eat my hot slice with a fork, large mushrooms and tiny pepperoni were present in nearly every bite. The flat, crispy crust was slightly charred on the bottom and seasoned with delicious Italian spices. Harry's calls this a Napoletana Thin Crust Pizza, and now I know that is my favorite kind of pizza! The light sauce was probably nothing more than a dressed up can of crushed tomatoes with garlic; the chunky tomatoes were also present in every bite. Ryan commented about the freshness of the ingredients, and it was true. Our entire meal so far tasted fresh and flavorful!
We also decided to sample the stromboli at Harry's Pizza, because I wanted to be thorough. Also, STROMBOLI. The homemade dough looked and smelled wonderful; the rounded edge of the roll had been kneaded into a beautiful twist. Ryan noticed that the stromboli could have been more stuffed with ingredients. He felt that the dough to cheese/sausage ratio was off. He commented that you "definitely come here for the pizza, not the stromboli," but I think it was a nice addition to our lunch. Worth sharing, especially if you have a couple of friends to share it with.
After our meal, Ryan said the three words I was hoping to hear, "…worth the drive." Harry's Pizza IS quite a way from Downtown, but I am so happy I finally made the trip. Harry's has raised the pizza bar, and I encourage all of our pizza-loving readers to take the drive. Totally worth it.
Sorry for the haziness of the photos. My camera's batteries died at Harry's, so I had to use Ryan's phone.