Notion, Oakmont, PA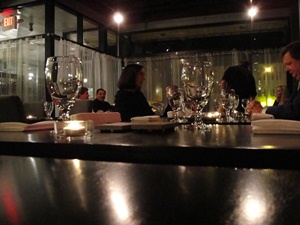 Question: What do you do when Chef David Racicot opens a restaurant in Oakmont? You make a reservation. Friday night, we made it down to the opening of Notion, Chef Racicot's new eating establishment in Oakmont, PA.
Atmosphere: The building that houses Notion is small and unassuming. The exterior is dark, and the large windows give walkers-by a peek of the gourmet food being prepared. Inside, the dim lighting, dark shelves and table covers help set a somewhat formal mood. There's an open kitchen, so diners can see the chefs hard at work as you're shown to a table.
Food: The food at Notion can be described as modern American. The Chef implements original ideas, with a touch of molecular gastronomy. The tastes and textures are clean, the flavors bold. The plate presentations are beautiful. Since we were there on opening night, we were served a few complimentary dishes in between our appetizers, main courses, and desserts. In total, we tasted eight different plates of food.
Before the main dishes were served, our waiter presented us with a few portions of Amuse Bouche, which in French means small bite-sized morsels of food served before the appetizers. Cherry-gin mousse/foam with basil seeds was served set atop cucumber compote. It was an interesting taste combination; light and fluffy with pronounced flavors.
We ordered two appetizers: The Beet Salad, and Tuna Tartar. The beet salad was prepared with freeze- dried yogurt, beet chips and grapefruit foam and wedges. The tear-drop shaped beets were perfectly cooked and seasoned, and the crunchy yogurt provided a soft flavor. The tuna tartare was naturally sweet, and banana miso added an unexpected flavor-punch.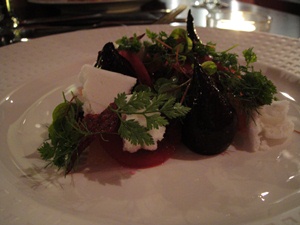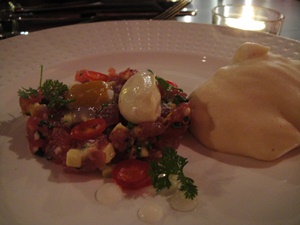 After carefully considering the main dishes, we were happy with our choices; the Lamb, and Braised Short Ribs. Our lamb arrived with a glass of smoking hay to add to my sensory sensory experience. I'm not sure if the hay actually prepped my senses for the lamb, but it was delicious. There were three rectangular pieces of perfectly cooked and seasoned pieces of meat presented with toasted pine nuts and red cabbage. Perfect.
The braised short ribs were melt-in-your-mouth tasty. The portion was small, but the flavorful, succulent meat was cooked flawlessly. The short ribs came with caramelized onions, white bean puree, and my favorite- bleu cheese; we could have easily eaten a few more portions.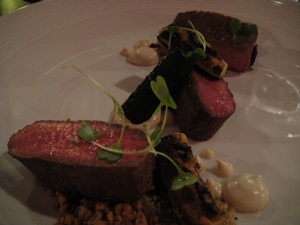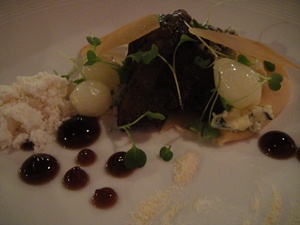 After our entrees plates were cleared, and before we ordered dessert, we were served another Chef's surprise- Coconut Tapioca Pudding with Passion Fruit Mousse. The pudding was served in a small stainless steel bowl with a perfectly polished spoon. The large pearls of tapioca had a soft texture, and the creamy coconut custard was rich and buttery. A dollop of passion fruit mousse added a fruity element that provided a nice finish.
Desserts came next; Powdered White Chocolate with Menthol and Raspberry, and Chocolate Custard with Almond Ice Cream, Rosewater Foam and Almond Nougat. Both Desserts were tasty, sweet, but not over-indulgent. Before our check came at the conclusion of the meal, our server provided us with two freeze-dried meringues filled with passion fruit gel; superb.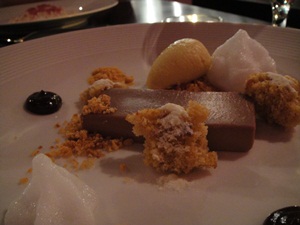 Service:
We were greeted by the general manager Jenn, when we arrived. She was cordial, polite and attentive. Our coats were taken before we sat at our table. Our server Donny provided superior service- he explained each dish thoroughly as it was served, and kept our water and wine glasses filled.
Points of Interest:
No beer is available, just spirits and wine.
There are 12 items on the menu, no nightly specials.
Conclusion:
The cuisine at Notion is impeccably prepared by an obviously skilled chef. The modern American cuisine coupled with traditional cooking techniques make for great food. Although some Pittsburghers may prefer more traditional fare, they may want to explore their boundaries with the food at Notion.
Entrée Prices at Notion range from $22 to $34