Pizza Sola, East Side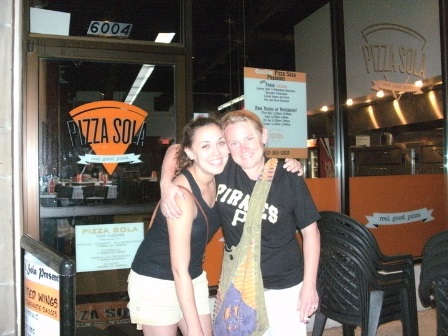 I'll be honest. I had waaaaay too much fun the other night. My sisters and I went out to some bars in East Liberty. We walked to Buffalo Blues for a few drinks (see Chuck's review, I totally agree with him about BB). Then, we headed down to Kelly's Lounge. We had a great time, catching up and making fun of the rest of our family. On our way home, we walked through a gust of the most wonderful aroma I've ever smelled. The corner of South Highland and Penn Avenue smelled overwhelmingly of PIZZA. And we had to have some. We made a stop at Pizza Sola.
Before I begin lavishing my pizza praise on Pizza Sola, let me say that I appreciate any pizza establishment that understands its sacred relationship with booze: drunk people love pizza. It's science. Easy to get a hold of…easy to eat…filling…sobers ya up, what's not to love? Pizza is perfect for people with a penchant for parties and pubs.
Pizza Sola stays open until 3am on Friday & Saturday nights, so it's sure to catch some of the overflow as patrons from nearby places like Kelly's head home for the night.
We each ordered a slice of pepperoni pizza and a pop, and Marla threw in a pepperoni roll for good measure. At 1 in the morning, I didn't feel like a jerk for being all liquored up and trying to eat some greasy food. (Yes, I am too old for this. No, I do not care.) The cool pizza dudes working that evening were very kind and patient. Pizza Sola boasts an open, inviting atmosphere.
I loaded up my gargantuan slice with millions of red pepper flakes. I lifted the hot, cheesy triangle to my mouth and right about then I realized that I was no longer sitting at a restaurant in East Liberty. I was flying high above the world in a state of spicy, cheesy bliss: Heaven.
No, but the pizza really was delicious. I enjoyed that pizza as much as I've ever enjoyed a slice, and that's sayin' something. Thin, crispy crust splattered with a spicy & sweet tomato sauce, topped with great cheese & pepperoni…this is one of my favorite pies in the city. The only one that compares is Aiello's, and frankly, I like Sola better.
Oh! And I stole the last two bites of Marla's pepperoni roll…I just reached over, took it off her plate, and ate it. I can be such a pizza-jerk. It was pretty good.
I think that this is how many folks end their nights, in Pittsburgh and everywhere. We had a great time at the bars, then we indulged our munchies before calling it a night. Eastsiders, and I'm sure Oaklanders & Southsidians are lucky to have this New York style pizza shop in their neighborhoods. In fact, it's worth a trip from any neighborhood in Pizzaburgh. I mean, Pittsburgh. (That was an actual typo, do you believe that?! I am so easily distracted.)
Anyway, my sisters and I had a great night, thanks in part to Pizza Sola. Great family, good booze, and awesome pizza: It does not get any better than that. Heaven.