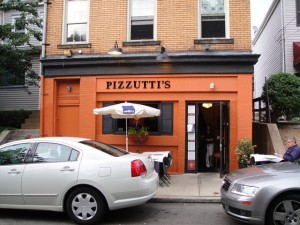 Pizzutti's, Shadyside
Andrea Bocelli has always been a favorite of mine, so when I heard his flawless ballads streaming from the speakers at Pizzutti's, I got excited. Still in search of some good Italian food in Pittsburgh, we decided on the small Italian Restaurant in Shadyside.
The first time I walked by Pizzutti's, I thought it may be a pizza, or small sub shop. Walk in the front door, and you'll be surprised to see a dining room beyond a small foyer. The dining area is warm and inviting, with warm colors on the walls, and all of the appropriate Italian décor.
Nate, our waiter, came by and introduced himself. He went on to tell us that Pizzutti's was a BYOB establishment, but if we didn't have any wine, he would be happy to pour us a glass of complimentary Chianti of Pinot Grigio. Wait, did you say complimentary, as in free? Why yes he did! Since Pizzutti's doesn't have a liquor license they're permitted to serve, but not charge for alcohol.
As we looked over the menu, Nate asked if we wanted any appetizers. I asked for a Caesar salad, and a bowl of their house-vegetable soup was also ordered. The salad came with large homemade croutons, extra anchovies, and creamy Caesar dressing. The salad was excellent- the greens were fresh, and cut into small bite-size pieces, with crunch croutons on top. The soup was steaming hot when it arrived, and was full of hearty summer vegetables. The broth was flavorful, and perfectly seasoned- so far so good. The salad and soup was served with fresh Italian bread, and spicy dipping oil
Entrees were next; we ordered: Penne a la PIZZUTTI'S, Imported Penne with Sautéed Chicken, Mushrooms, Goat Cheese and Chives in a White Wine Cream Sauce- $ 12.99, Gnocchi with Prosciutto di Parma and Peas, Potato Gnocchi with Prosciutto di Parma and Green Peas, Garlic and Herbs,Topped with Parmigianno-Reggiano- $11.99, and PIZZUTTI'S Spaghetti with Meat Balls, Homemade Spaghetti with a 'PIZZUTTI Sized Meatball' in Own Tomato Sauce- $11.99. We also ordered a side Spinach Salad -$7.99.
Nate told us that the pasta at Pizzutti's was all homemade- impressive.
The Spinach Salad arrived first; the leaves were dark green and fresh. Also on the salad were large strips of sweet red peppers, gorgonzola cheese, walnuts, poached, sweet pears, and a homemade raspberry vinaigrette- the salad was scrumptious.
The pasta dishes were served, and we were immediately impressed with the large portions. The Penne a la Pizzutti had thick, grilled skinless-boneless strips of seasoned chicken atop of penne with mushrooms in a white sauce. I tasted the chicken first- it was juicy and flavorful, not overcooked in the least, and the penne pasta was cooked properly. The white wine sauce was average, lacking any white wine taste, and I could also taste the flour that was used in making the béchamel sauce. Overall, the dish was good. The Pizzuttti spaghetti with Meat Balls was next. The meatball was the size of a baseball, and fresh strands of homemade spaghetti surrounded the plate. The red sauce was tart and fresh (finally a red sauce made by someone with knowledge of Italian cooking) and the meatball was tender and mouthwatering.
Gnocchi is a fickle dish- it's always difficult to find the right combination between the flour and potato mixture… you don't want the delicate taste of the potato to be overwhelmed by anything else in the dish. I'm not sure if the gnocchi at Pizzutti's are homemade, but they were excellent. The texture of the potato dumplings weren't over starchy, and the small gnocchi were cooked just right. The bright green peas, prosciutto, garlic and herbs, and cheese were also a nice combination.
Besides having great food, here are a few other things that in my opinion, make Pizzutti's a good restaurant:
Excellent service. Our server was attentive and knowledgeable. He was focused on our needs, and courteous. He also offered cracked black pepper for all of our dishes, as well as fresh parmesan cheese.
Good red sauce. I've had some really bad red sauce at Italian restaurants lately. A good red sauce is simply prepared, fresh, and seasoned.
Complimentary wine. If you didn't bring any wine, or forgot your bottle, the staff at Pizzutti's will provide you with some good quality, complimentary Vino!
Combine all of these attributes, and you have a good restaurant. Finally, authentic Italian food at a reasonable price… who knew!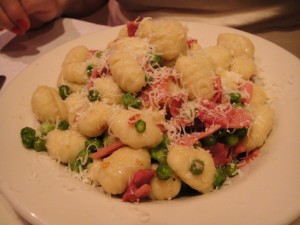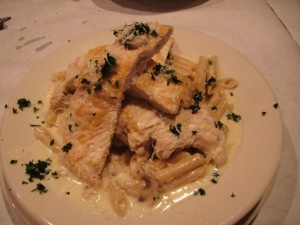 Chef Chuck Kerber
chuck@cooksandeats.com
Pizzutti's Restaurant
(412) 687-1022
Shadyside
709 Bellefonte St – Shadyside
Pittsburgh, PA 15232
pizzuttisrestaurant.org