Shun Knives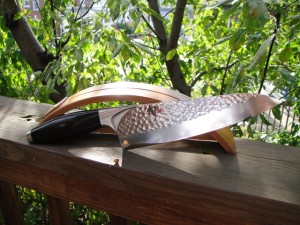 Shun Knives
My knives are important to me. I use them every day; they are the tools of my trade. I care for them as if they are my children, wiping them clean after every cut, polishing them clean with my special cloths, and storing them in containers so that they can be safe until I need to use them again.
I am loyal to certain German brands because of their proven resiliency; I have had several of them for 15 years. These knives continue to serve me well with unblemished steel, free from chips or defects.
From time to time I will experiment with new brands of knives; I'm always looking for the perfect cut… that perfect balance in my hand.
I recently purchased two Shun knives from a well- known distributor. I must admit, I was taken with the beautiful design; visible folds of shiny metal and the polished wood handle.
"Two Shun Chef's knives for me please."
I plunked down my credit card, and $300.00 later, I had my new cutting instruments in hand.
The next day I removed the new knives from their protective sheaths, and made my first cuts. The perfectly sharpened steel easily cut through fruit, vegetables and poultry. Both knives were making short work of even the most difficult culinary tasks. Unfortunately, after a few days of work, I began to notice small chips in the blades. These flaws were disappointing to say the least. I thought back on the work I had done with these knives… had I cut something other than food? Surely not; I never use my cutlery for tasks other than what they are intended for.
I promptly returned my Shun knives to the store that I had purchased them from. The clerk was surprised to see large chunks of steel missing from both of my knives.
"Would you like your money back?"
No. I would, however like two new knives. Maybe that particular batch of steel wasn't formulated correctly; maybe there was a flaw in the process somewhere.
My new Shun knives are still waiting in my bag. I will use them again soon. Hopefully, they will perform better this time.
To be continued.
Chef Chuck Kerber
chuck@cooksandeats.com