Square Cafe, Pittsburgh, PA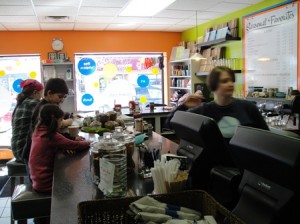 Square Cafe, Pittsburgh, PA
If you live in the east end of town (or any other suburb of Pittsburgh) you've most likely heard of Square Café in Regent Square (412-244-8002). The small café has enjoyed considerable success since opening its doors several years ago. Many restaurants come and go, but Square Café has staying power. So, what makes some restaurants successful while others fail? Quality ingredients, an inviting atmosphere, great service, and an owner that takes pride in her ownership, all contribute to repeat business.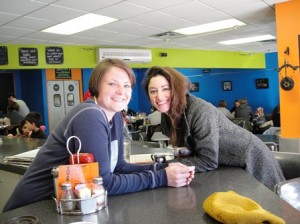 "I like to be here every day- the customers know that I'm available, in the restaurant if they ever have concerns, or just want to talk. We're a family-style café- kid friendly; people feel comfortable here," says Sherree Goldstein, owner of Square Café.
Besides being a successful restaurant, Square Café also offers catering services.
"We can deliver, serve on-site, or you can rent the café. This is such an awesome space; it's perfect for birthdays, anniversaries, or any other special occasion. If you're interested in booking an event, you can call Sherree, Doug, or the catering manager, William.
On any given day you can walk into Square Café and get an exceptional cup of coffee (locally roasted and delivered from Kiva Han) or a bagel to go. The restaurant is always busy with hungry diners enjoying the homemade fare (nothing pre-made here). Customers enjoy the bustling café; but very seldom get a chance to experience what goes on behind the scenes.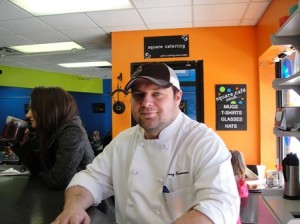 I recently sat down with Doug Genovese, the chef at Square Café, and asked him some questions.
What is your fondest cooking memory growing up?
"When I was a kid I spent a lot of time in the kitchen with my grandparents. My grandmother taught me how to cook, but what I remember most is preparing pork schnitzel with her."
When did you know you wanted to become a chef?
"I was studying computer science at Penn State University- much of my time was spent in various kitchens around the area working as a cook. I enjoyed my time cooking, and began to experiment with different cooking techniques and ingredients."
What is your favorite ingredient, or dish to make?
"I like most fish; but it has to be fresh. Halibut, sole, and scallops are some of my favorites to work with."
What are a few of the best sellers at Square Café?
"The white bean hash; it's a mixture of white beans, leeks, pancetta, and shaved parmesan; topped with two eggs. Other great sellers are the gnocchi; they're homemade, fluffy and delicious!"
How long have you been at Square Café?
"I've been here a year and a half now. My wife Ellen and I frequented the Café for a few years, and got to know Sherree, the owner. One day she asked me if I was interested in coming to work at the café as the chef. I discussed it with my wife, and decided to give it a try- I'm glad I did.
What activities do you enjoy outside of work?
"I don't have a lot of free time, but when I do, I spend time with my wife Ellen. I spend time in Frick Park with my dog Ben. Snowboarding is also top on my list."
Who do you admire?
"Einstein- he was an amazing man with an incredibly complex mind. The people I admire most, however, are my grandparents; they had unshakable integrity, and a strong work ethic. They made it through the depression, and persevered despite complicated circumstances."
"It's very important to me that kitchen staff is happy, and at the same time, learning as they work. We have such an incredible bunch of people working at the Café."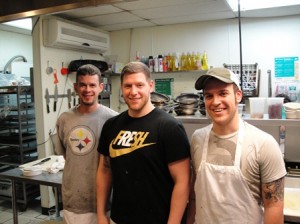 One of the key players in the kitchen, and sous chef, Amy Wiiki has grown significantly since starting at the café.
"She's an incredible talent, and great at anticipating needs on the line; she's organized, reliable, and becoming quite the pastry Chef."
If you haven't visited Square Café yet, it's time to go.
Chef Chuck Kerber
cooksandeats.com
chuck@cooksandeats.com