Square Cafe, Pittsburgh, PA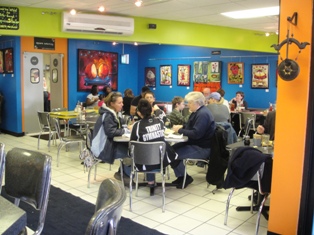 Since its inception in May of 2003, Square Café has enjoyed great success.  Located in the quaint neighborhood of Regent Square, residents are able to walk to the small restaurant and enjoy homemade food.  Arriving on a Saturday, we weren't surprised to see a large crowd.  During the weekend it's essential to come early if you're famished as you will most likely have to wait in line for a table after nine am.
Being unusually warm for the end of October, we opted for an outside table.  I ordered an omelet with goat cheese and tomatoes, and my girlfriend asked for the organic oatmeal with brown sugar and blueberries.  While we waited we sipped our coffee- a definite high-point for this establishment (supplied by Kiva Han).  With a robust flavor you won't be satisfied with just one cup.  While waiting for our meals to arrive we noticed several customers sitting outside with their dogs.  The owner, Sherree Goldstein actually encourages patrons to bring their pets, but outside only.
Our meals arrived promptly and were steaming hot.  The oatmeal was sizeable (bring your appetite!) and was packed with heaps of fresh brown sugar and fresh plump blueberries.  The oatmeal was cooked perfectly; lump-free and more importantly, not runny.  The omelet was fluffy and seasoned with just enough salt and pepper.  There was no scarcity of fresh tomatoes and goat cheese.  Other offerings from the Fall menu include the Vegan Breakfast Burrito ($9.00), Wild Mushroom Tart ($10.00) and Butternut Squash and Nutella Crepes ($9.50).  These are just a few items at the Square Café; the menu is quite extensive.  One of their most popular items on the menu are the pumpkin pancakes; loaded with fall spices and California Walnuts they're a wonderful treat.
Over the past few years sales at The Square Cafe have doubled.  Sherree Goldstein, the owner, attributes that to the high quality of food and repeat business.  "People come here because it's convenient, and they like the family atmosphere," she says.  Sherree also explains that it's not important to take things too seriously, "We're just flipping eggs here."
If you're a frequent customer of Square Café, you'll notice that most of the employees have been there for some time.  Ms Goldstein attributes that to the fun and simple atmosphere- one of her key employees, Donna Fey has been integral in helping to establish that.  The Square Café has also employed a new Chef, Doug Genovese, from the Pittsburgh Golf Club.
If you like breakfast foods and enjoy a jovial atmosphere, you'll enjoy your time at the Café.  Although it's not cheap, the quality and quantity of the food will leave you satisfied.
Square Cafe 1137 S Braddock Ave
Pittsburgh, PA 15218-1250
Phone: (412) 244-8002
Square-Café.com