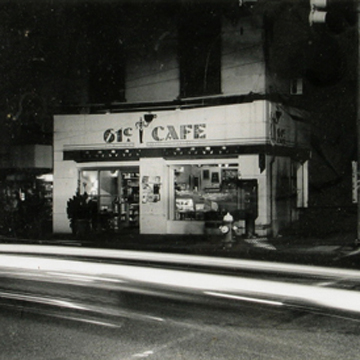 You may or may not know that I am not originally from Pittsburgh. I grew up not-too-far from here in a little town called Wellsburg, WV. Wellsburg is smack dab in between Wheeling Island and Mountaineer Casino. That's about all I have to say about that place.
There wasn't a whole lot to do in Wellsburg. No shops, no theatres, no concert venues (if your church doesn't count). It's sad, but there's not a whole lot of culture moving in and out of the Ohio Valley. There are a few notable restaurants, and I will save those places for other articles. There weren't too many places to go to just "hang out." In high school, my friends and I would drive 20 miles just to go to a coffee shop! Maybe it was because of that sense of adventure that I first fell in love with the coffee shop culture. Going to a comfortable place and seeing and hearing new kinds of people and art and music was such an eye-opening experience at that age. I wanted culture! I wanted "new!" I wanted an Americana over ice.
I've always dreamed of living a life like the expatriates in Hemingway's The Sun Also Rises. I wanted to live in Paris and be a writer and drink Pernod at street-side cafes all day and all night. How romantic! Even the décor in my apartment was inspired by my love of French cafe culture. Goofy, maybe, but at least when I'm at home I feel like I'm doing exactly what I wish I could be doing. That's when it occurred to me: why can't I live the way I dream of living? Just because I don't happen to live on the Left Bank of Paris, doesn't mean I can't eat and drink and write and live like I do! I just have to wear a coat here in Pittsburgh, sometimes, that's all.
So, Monday night when I walked into The 61c Cafe, I fell in love. Immediately, I felt like I was home. Even though I was on a familiar street in familiar Squirrel Hill, I think that with little effort I could have convinced myself I was in another country far away. And I loved that.
The soft lighting seemed to swallow me up as I walked in the door. It was so alluring, so cozy, and not at all too dark. Being the music lover that I am, I noticed the calm, but interesting indie rock music playing in the background, at exactly the right volume. I was greeted by a small crowd at the 61c, mostly people reading books or doing diligent work on their laptops. There are interesting, original details in every nook and corner of this café, with lots of artwork inspired by nature. Just a great atmosphere.
The counter space is overflowing with jars of Enrico's Biscotti (the best in Pittsburgh), cookies, and other treats. The 61c also offers granola, cheesecake, and other delicious pastries. The menu of drinks may seem daunting to a coffee newcomer, but fans of espresso drinks, teas, juices, and smoothies will take great delight in searching for the perfect beverage. I ordered a double shot of espresso over ice. I was happy that the barista didn't second guess my choice of drink just because it was extra strong. I really hate when servers act like "you couldn't possibly have meant to order that."  My espresso looked and smelled fantasic!  After working with espresso for so long, I can really appreciate a good crema.  I added a little half and half and some splenda to give it a little body.  Delicious!
I managed to get a seat by both a window AND an electrical outlet, something that is tricky to do in a coffee shop full of laptop users. I set up my notebook and started writing ("Aiello's vs Mineo's," did you read it?) People came and went. I finished my drink at about 10:30 and the shop closes at 11pm. (By the way, who drinks espresso at 10pm? I do, I guess.) I packed up and left the cafe, energized. Sure, it was probably the double shot. But I was also invigorated from the experience. It was great to just sit alone, enjoy a great espresso, and people watch. I couldn't have been happier if I had been doing the same thing in Paris on the Boulevard du Montparnasse.