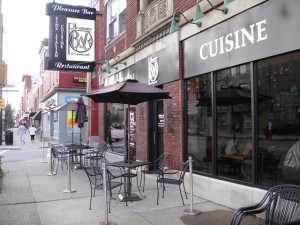 The Pleasure Bar, Bloomfield
After browsing through our reviews at cooksandeats.com, I noticed that we have been lacking in reviews of Italian restaurants! We have done several pizza reviews (thanks Katie Lane) but have yet to let our readers know what we think of local Italian fare.
Well, that's all about to change, because we did venture out to Bloomfield in search of authentic Italian cuisine. There are so many restaurants in the Italian section of Pittsburgh that it can be difficult to choose just one. We narrowed our search down to a few local spot,s then ultimately chose a small place by the name of The Pleasure Bar. It's not exactly Italian sounding right? Well, we found out that prior to being The Pleasure Bar it was called Marianni's. Apparently some new owners decided to change the name to lure more customers in the doors.
We arrive shortly after 6pm, and were led into a private dining room in the back of the restaurant. Along the way we passed a large bar, and another dining area to the right. Our seating area was nice- very clean with colored carpets, several tiffany lamps, tablecloths, and black cloth napkins… so far so good. Our waiter arrived, took the drink order and was off again. By the time he arrived with our beverages, we had decided on entrees: Eggplant parmesan, Chicken Parmesan, two bowls of Wedding Soup, Pesto Pasta, and a fresh Mozzarella and Tomato Salad. I also ordered a dinner salad with bleu cheese. "Sir, would you like fries with that Chicken Parm?" What??? Fries with Italian food? That's like ordering pizza at a Chinese restaurant. We waited over 20 minutes for our salads to arrive, which was a drag because I was famished. The greens were fresh, and the tasty bleu cheese dressing was home-made. The salad was also topped with black and green olives, tomatoes, and shave parmesan cheese. The soup was average. Fresh bread and butter were also served.
Our entrees arrived two minutes after we had finished our salads and soup. The portions at The Pleasure Bar are very large, so you may want to consider sharing an entrée. The Chicken Parmesan came with a thick layer of melted cheese on top, and plenty of red sauce. The breaded chicken was tender and fried golden-brown. The French fries were heavily seasoned, and crispy. Pesto Pasta was next… the sauce was bright green and fresh- very tart, and full of garlic, cheese and pine nuts. It was a good dish overall, but the pasta was overcooked. Eggplant Parmesan is one of my favorites. This entree is similar in preparation to the Chicken Parm, but doesn't have the heavy layer of melted cheese on top. The eggplant was thinly sliced, deep fried, and covered with tart tomato sauce. The portion was enormous, and we ended up taking more than half of it home. Fresh mozzarella and tomatoes are always nice on a hot summer evening, and this dish didn't disappoint. The cheese was soft and smoky, and the tomatoes were dark red, meaty, and full of summer zest. The only downside; there were too many scallions on top.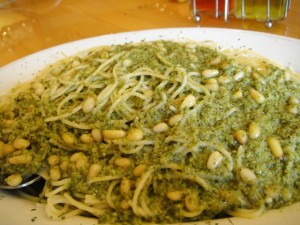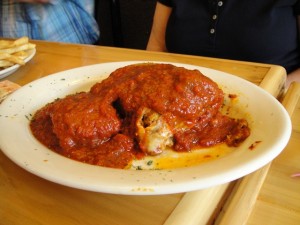 The Pleasure Bar is a nice place to eat. It's a family oriented spot with soft music, and a friendly atmosphere. The food is pleasant, but lacks authenticity at times.
Entrées are between $12.00 and $15.00.
Chef Chuck Kerber
chuck@cooksandeats.com
Pleasure Bar
(412) 682-9603
Bloomfield
4729 Liberty Ave
Pittsburgh, PA 15224