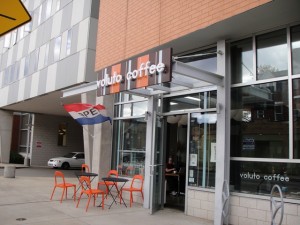 Voluto's, Friendship
Despite Starbuck's attempts to completely monopolize the coffee industry, there are still small coffee shops that exist in metropolitan neighborhoods. One such café is Voluto's in the East Liberty/Friendship area of Pittsburgh. I had never heard of Voluto's until a colleague scheduled a meeting there.
Large windows adorn the front of the café, letting in plenty of natural light- if you plan on enjoying your coffee during the afternoon, bring your sunglasses; you're going to need them.
"May I have a small decaf?" I asked.
"We, um… don't brew decaf, there's really no demand for it," the barista replied.
He went on to tell me that he would be happy to make me an Americano decaf- it would be much better.
As I waited for my coffee, I noticed some original art on the soft blue walls. There were a few other patrons on the coffee shop having conversations, enjoying their brewed selections. As I took my Americano decaf to my table, I noticed a strong roasted scent ascending from my mug. I took a sip and realized what a big difference fresh-brewed coffee makes from drip coffee that has been sitting around for lengthy periods of time. The taste was rich and robust- the color dark. This was a good cup of decaf coffee- seriously. As I continued to wait for my meeting to start, I had a short conversation with the owner, Barb Russell. She filled me in on a few not-so-well-known facts about her coffee shop.
*She uses direct- to- trade coffee beans, most of which are organic from 49th Parallel Coffee, in Canada.
*There is only one (1) size of cappuccino- yup you heard me. The goal here is to capture the authenticity of true Italian brewed coffee, and the Italians don't order their coffees by size!
*They don't make any drip coffee; only French presses are used to prepare their blends.
*All of their syrups are made in-house
Besides having good coffee, Voluto's also offers other pastry treats, and Panini sandwiches if you're looking for lunch.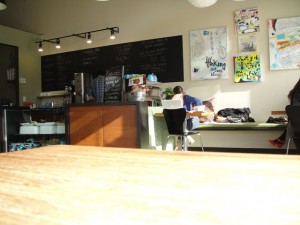 Voluto Coffee  
(412) 661-3000
Bloomfield
5467 Penn Avenue
Pittsburgh, PA
15206
www.volutocoffee.com
Chef Chuck Kerber
chuck@cooksandeats.com