WQED's Chris Fennimore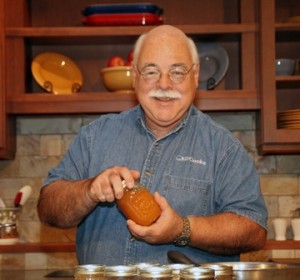 When did you first realize that you had a passion for food, and what is your earliest memory of being in the kitchen?
I grew up in a big extended family. We lived in my Grandmother's house along with several sets of aunts, uncles and cousins galore. The kitchen was our common room. During the week we did our homework on the kitchen table. That's where we had every meal and it was the site for about 6 hours of prep work leading up to the communal Sunday meal. As soon as we were old enough to sit or kneel by ourselves on a chair we were put to work. I think my very first job was grinding walnuts into a little jar. then I graduated to shaping meatballs, grating cheese and then the flour-egg-breadcrumb process we used for everything from pork cutlets to artichoke hearts. Once we were old enough for the stove we could toast breadcrumbs, fry vegetables for caponata, boil pasta and make rice. But my real love was watching my Mom make her pizza and rolls. She had a way with yeast dough that was amazing. Such a light touch.
Where your parents good cooks?
My Mom and Grandmother were EXCELLENT cooks. Gram was a natural, making consistently good Sicilian style dishes from the traditional ingredients: squash, artichokes, eggplants, tomatoes, escarole, broccoli rabe. She made the traditional Sunday Sauce every week – without fail. It always included meatballs but often spare ribs or braciole as well. Mom was more adventurous, adding American and other ethnic recipes she read in magazines. Dad was hopeless and they didn't want or need him in the kitchen any way. But he was a most appreciative eater.
Most people have seen you on WQED giving food demonstrations, and working with Pittsburgh Chefs. What is involved in preparing for a typical show?
The two days before the show are the most intense. First you have to analyze the recipes in terms of what you are going to be able to demonstrate in the 12 minutes of the segment. Then you have to determine if you'll need any "Swap outs." That means, a recipe prepared up to a certain point. So, 11 recipes might translate into 20-30 stages that have to be prepared, including finished versions of everything to taste on air. Tehn I have to go out and shop for all those ingredients and haul them back to the studio kitchen. On Friday I start prepping and preparing all those stages. Saturday morning we put the final touches on each of the recipes (some things you just can't do too far ahead of time) and then at 10am it's lights, camera, action. Whatever happens is what it is in live TV. I usually have two or three volunteer helpers in the kitchen to help getting the various demonstrations on and off the kitchen counter at the right time and to keep track of dishes in the oven cooking or warming or boiling on back burners. Not to mention, they have to get the guest cooks ready, clean the pots and pans we may need for another demo and stand ready to give us utensils, pots and pans, etc. we may have forgotten during the prep. It is wild in the studio but hopefully it doesn't show on camera.
Besides your on-air job, what other duties do you have at the station?
I am the Director of Programming for WQED which means I get to watch television for a living. I oversee the scheduling and broadcast of three program services from our HD main channel to the CREATE CHANNEL of lifestyle programing and THE NEIGHBORHOOD CHANNEL of continuous local productions.
What is your favorite type of food to prepare for your family and friends?
I tend to revert to my old family recipes. There is nothing my son likes better than a big pot of Sunday Sauce with meatballs. He also loves home made pasta like cavatelli and ravioli.
There are so many new restaurants in Pittsburgh, are there a few that you would recommend to our readers?
I hate to mention just a few when there are so many. But I think everyone should try SALT OF THE EARTH. Kevin Sousa has created a unique and challenging dining experience that should be experienced. I feel very comfortable at LIDIA'S PITTSBURGH. The food is pure comfort and the staff is so friendly and welcoming. I'm anxious to try Yves Carreau's new place in Market Square, NOLA because I love the food of New Orleans.
If you could have your pick of any chef in the world to have on your show, who would it be, and why?
This one is easy. Jacques Pepin. I feel like he is in a class all by himself. Not only was he the personal chef to Charles DeGaulle but he has worked in every aspect of the food industry from line cook to corporate chef, TV personality, master teacher… I had the honor of meeting him just once at a public television meeting and I still hold out the hope that I'll be able to watch him cook in person one day.
What can we look forward to seeing in the coming months on your WQED cooking show?
Our next cooking marathon will be on Saturday, June 4th, live from 10am. The topic is Picnics &BBQ's and you can expect to see a lot of marinades and grilling but also some great salads, sides and desserts that will get you ready for a delicious outdoor eating season.