Yo Rita, Pittsburgh, PA
There's only so much one can expect when venturing to a restaurant with a sexy, mud-flap pin-up on it's windows.  I figured that Yo Rita, like so many of it's Southside neighbors, would be the kind of place you could drink some giant beers and eat some sufficiently-not-disgusting bar food; in this case, I expected to see some cheap tacos and Dos Equis on draft.  My first impressions were wrong about Yo Rita.  Then again, they were right.
Immediately upon entering, I noticed that the décor of Yo Rita was much more sexy and chic than topless mud-flap lady had led on.  The dim lighting and long bar invited us right into Yo Rita's strategically-placed arms.  Since Yo Rita doesn't accept reservations and we were meeting good friends, Jason and Molli, Ryan and I decided to have a drink at the bar.  Have I ever told you just how much I love chips and salsa (especially complimentary chips and salsa)?  Well, it's pretty much my favorite.  So, we ordered up a Moscow Mule (Ketel One, ginger beer, & lime juice) for him and a "Rita" (Milagro Blanco, St Germaine, & Patron Citronge) for me.  We enjoyed our drinks, our appetizer, and the moment.  Jason and Molli joined us, and the boys shared a refill of chips & salsa, and we girls got our own, as well.  I loved that the "hot" salsa was actually very spicy!  Another round o' 'ritas.  Forty-five minutes passed, and we were given a table by the window.  "Are you aware that the Moscow Mule is Oprah's favorite drink?"  Why no, Molli, we weren't aware!  Moscowwww Muuuuuuuuuuulllllllllllle!
Yo Rita, Pittsburgh, PA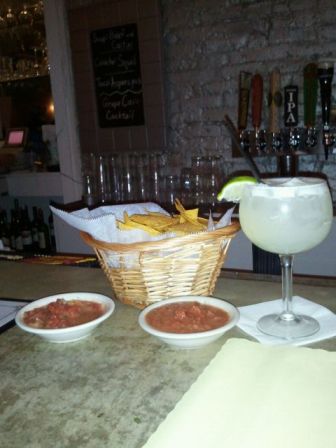 One of my favorite personal food rules is simple:  "I don't eat cephalopods."  So, when my friends started ordering calamari tacos, I cringed.  And I cringed again every time I looked at them around the table.  You know what I always say, better you than me.  To be fair, though, my friends really did enjoy the calamari tacos.  Jason really, really enjoyed his Oyster Po' Boy Taco!  Ryan had a calamari taco and a tuna taco.  He thought that the best part about the tuna taco were the fresh bits of Granny Smith apples in each bite.  Molli (an actual vegetarian!) had ordered theSouthern Style Seitan taco, and she mentioned that the spicy pickle relish tasted very flavorful!  Sounds good to me!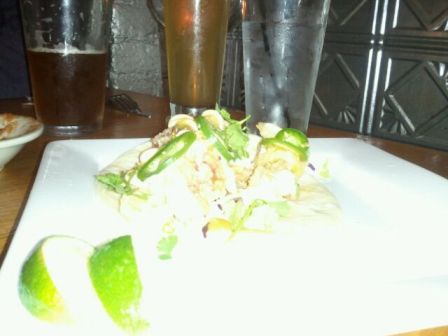 My Duck Confit taco (yes, I flexed) featured mole,  pepitas, soft cojita cheese, and crunchy onions.  Somehow, all of those exotic-sounding ingredients meshed together so perfectly; when I was finished, I thought about ordering another one.  I had also ordered the Chorizo taco (dippy egg, asadero cheese, and some kind of sweet maple sauce), but I hated it.  The dense chorizo was too…hard?  I scooted the runny egg off of the hard sausage and tried to eat it that way, but quickly passed it off to Ryan.  Although the duck taco was good, I found myself filling up on yet more chips and salsa after my meal.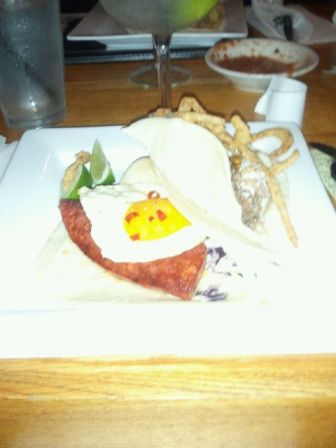 Oh yeah, and just one more thing.  I had two "Ritas" before dinner, and two at dinner.  I'm good, but I ain't that good.  By my count, that's four margaritas, and by ANYONE'S count I should be DRUNK.  At $10 a piece, I want to be 10 feet tall and bulletproof by the time I'm through!  But I wasn't drunk.  Not even a little bit.  I guess the calamari taco wasn't the only fishy thing going on at Yo Rita.  Where's the tequila, Rita?!
I was pleasantly surprised by the warm décor and good feeling inside Yo Rita.  I enjoyed the chips and salsa, and I really liked the duck confit taco.  I hated the chorizo taco and the margaritas.  I probably won't bother spending $85.00 at Yo Rita again any time soon.  I can get chips and salsa at the store for $6 bucks.