Church Brew Works, Pittsburgh, PA
Have you ever been to dinner in a palatial restaurant that was once a church?  Well, that's what you will find if you choose to have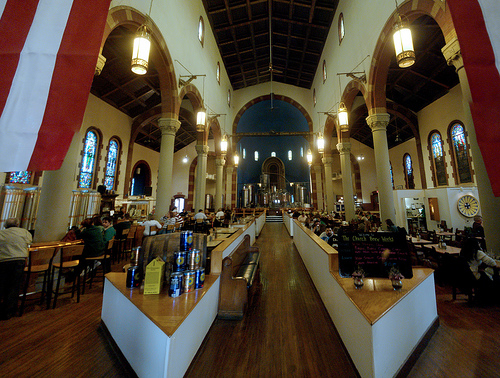 dinner at Church Brew Works.  Besides having good food, Church Brew Works brews, and serves its own beers.
It's hard to believe that a building so vast could house a restaurant, but it does.  One of the first times I had dinner at Church Brew Works, I remember entering the parking lot and seeing something peculiar.  There were people standing in the parking lot, looking up.  A large collection of bats were circling the top of the church, hundreds of bats, it was creepy.  Maybe the bats knew something we didn't.
I had been there before, but my guests hadn't.  They weren't discouraged by the large gathering of bats, thank goodness.  When you first walk in the Church, it's as big as it looks from the outside.  There's a bar on the left hand side, seating on the right.  Up towards the center of the restaurant, there are additional seats, a pizza station, and even some old organ pipes.
You have to try the beer if you come to Church Brew Works.  Some of the selections are, Celestial Gold, Pious Monk Dunkel (G.A.B.F. winner 1998, and 2001), Pipe Organ Pale Ale, Milennium Trippel, and many different types of Stout, all good.  Besides an excellent selection of fresh beers on tap, the bar also offers many different types of home-brewed bottled beers.  We all tried the stout of the week, and it was extremely hoppy and strong; very good.
My favorite appetizer at the Church Brew Works is the Spinach, Feta, and Smoked Gouda Dip ($7.50) served with warm wood-fired flat bread.  It's really a great combination; the gouda and feta cheese are completely different in taste, as well as texture.  It's served hot, so be careful not to burn the roof of your mouth!  The Quesadilla is another favorite of mine ($9.00) filled with chicken, andouille sausage, jack cheese black beans, jalapeno and tomato salsa, served with cilantro sour cream.  The quesadilla is very crisp; it crunches into pieces when you take a bite.  The sausage, bean, and cheese are an unorthodox combination, but quite good.  There are many entrees to choose from.  There's a turkey and Watercress Salad ($11.00), Crab Cakes ($23.00) with potato corn hash, Bourbon and Brown Sugar Glazed Salmon with Spinach and Potato Mash ($17.50), and the Catch of the Day (market price).  Pot pies, steaks, and pork chops are also available.  The pizzas are great, be sure to try them.  My preferred pie is the Pittsburgh Pierogie Pizza ($13.50).  This pizza has potato puree, sautéed sweet onions, garlic, and cheddar cheese- yeah, you heard me, starch on top of starch!  If you're not looking to carb-load, go for the Chicken and Spinach Alfredo Pizza, or the Portobello Pesto Pizza.
The menu is extensive.  Regardless of your culinary wishes, The Church Brew Works has something for you.  It's a great place to hang out during the week, and on the weekends.  It's a grand space, one that needs to be visited if you haven't yet.  And don't forget to try some of the house brewed specialties; they're delicious.
Church Brew Works & Restaurant
www.churchbrew.com
3525 Liberty Avenue Pittsburgh, PA 15201-1324 (412) 688-8200