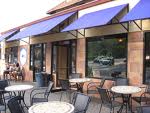 Calli's restaurant sits across from Frick Park in Regent Square.  If you've ever been to Rose's Ice Cream Parlor, you may have noticed it next door.  There are two entrances, one on the Forbes Avenue side, and another on Braddock Avenue.  If you enter from Forbes Ave,. you will find yourself at the bar.  Here, you can hang out with friends, have a beer, and watch sporting events on the flat-screen TVs.  Enter through the Braddock Avenue , and you'll be in the dining area.
Calli's is a well thought-out restaurant.  Someone with hospitality experience had a hand in designing this space.  The bar is exceptionally clean, with tables and high chairs.  This isn't just a beer and wine bar, it's fully stocked.  Seating is comfortable, and the tables aren't cramped.  You will be comfortable here with a few friends enjoying a drink and some appetizers.
The dining room seats approximately 40 people.  The wood tables and chairs are spankin' new, as is the décor, and everything else in the restaurant.  The walls are covered with warm colors and interesting lines.  The tiled floors add an interesting style to the already contemporary theme.  With the hard-tiled floors, and the minimal art and objects on the walls, the noise levels can quickly rise.  We had dinner when Calli's first opened, and it was nearly impossible to have a conversation.
The wait staff are competent, although there was some confusion during our visit.  This usually happens when new restaurants open; they need to work out certain flow problems.
We ordered the Grilled Chicken Sandwich ($7.75) and the classic Rueben ($7.75).  The grilled chicken wasn't overcooked and was quite tasty.  The sandwich came with French fries (steak fries) that were a bit on the underdone side.  The Rueben was served on rye bread with Swiss cheese.  The meat was lean, salty and warm- this was a real Rueben.  The Swiss cheese melted to the bread, which made it easy to dip in the Thousand Island dressing- yum.  Other choices include a Turkey Sandwich ($7.75), and a Crab Cake Sandwich ($9.75).  Dinner entrees include, Chicken Alfredo ($10.75), Seafood Alfredo ($18.75), Seafood Diablo ($18.75), and Chicken and Eggplant Parmesan ($12.75).
Calli's is a family friendly restaurant.  You can bring the kids for lunch, and enjoy the view of Frick Park while eating.  We enjoyed out time at the restaurant, and would definitely go for another meal.
Calli's Restaurant
412-242-8281
7600 Forbes Avenue
Pittsburgh, PA  15221