Hard Rock Cafe, Station Square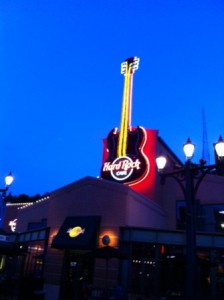 Hard Rock Cafe, Station Square
One of my best friends was curator for the hard Rock Café.  He was responsible for inventorying, cleaning, and deciding where to hang all of the priceless memorabilia. It was early 1989, a few months after Mr. Roy Orbison passed away, and the restaurant had received one of his guitars, signed of course. The instrument was particularly valuable. One evening I got a call from my friend, let's call him Bill A. Bill was a bit panicked because he had done something very bad. While cleaning the famous rocker's guitar, he had inadvertently wiped off the autograph. So, what does one do when making such a catastrophic mistake? Well, you go out to Office Depot, purchase a like-colored pen, and try your best to duplicate the autograph. So, all these years later, this slightly-less-valuable guitar still hangs on the wall of the San Diego's hard Rock Café.
I recently had the opportunity to dine at the hard Rock Café in Station Square with a friend. The large restaurant had pictures of famous musicians were all over the place- old faded leather jackets from famous rockers, electric guitars, and other musical instruments hung on the wall. Music was blaring over the loud speakers (80's tunes!) but my dinner companion and I had no problems having a conversation.
Our waitress visited our table with a smile, and was pleasant and professional.
We both started with Caesar salads, which arrived within minutes. I love romaine, and anchovies… always have, but this was no ordinary Caesar. Black olives and large bacon chunks lay atop the thickly dressed salad. At first I was taken aback, but quickly smiled as I tasted the smoky pork-parmesan concoction. The leaves were drenched with dressing, and there were even a few black olives in the mix. Thick croutons completed the salad- it was delicious and satisfying.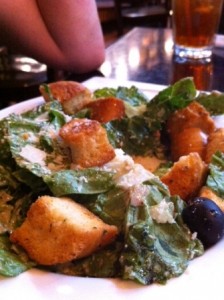 Our entrees arrived – she got the shrimp fajitas, I ordered a California burger. The fajitas were fairly straightforward; large, plump shrimp served with sautéed peppers, sour cream, cheese, tortillas, and guacamole. Everything looked good except the guac was a bit brown- blech.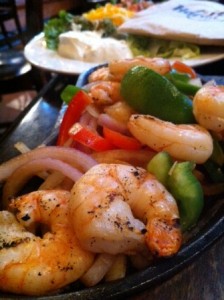 My burger came with guacamole, ranch dressing, cheese, and french fries. Unfortunately, the burger was over-cooked, and cool. The beef was unseasoned and lacked flavor. The fries were doused with salt and pepper, and were crispy and brown. On a scale of one to 10, the burger was at best a four.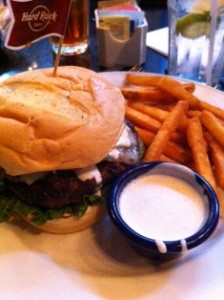 The best part of our meal was the miniature chocolate mousse at the end of our meal. It was just big enough to satisfy our sweet tooth, but not big enough to make us feel as if we had over-eaten. Creamy, and rich with chocolate flavor, it was the perfect ending to our meal.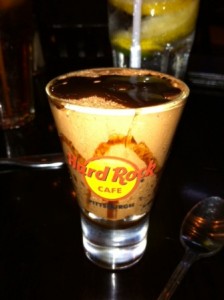 The hard Rock Café in Station Square is a hip, fun restaurant to visit, but the food is mediocre. If you have some out of town guests take them anyway; it's fun to look at all of the memorabilia, and take a walk down by the river afterwards.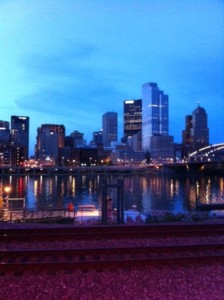 Chef Chuck Kerber
cooksandeats.com
chuck@cooksandeats.com