Hyeholde Restaurant, Moon Township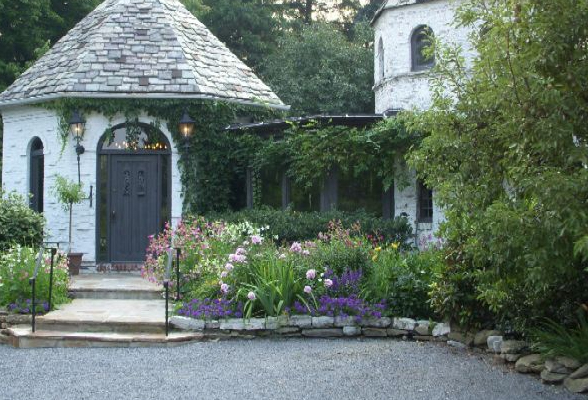 Nestled off the beaten path in Moon Township, there's an exceptional place to eat- The Hyeholde Restaurant.  What makes this such an extraordinary place to dine (besides the food) is the atmosphere.  Hyeholde has been around since 1938, and has a rich and colorful history (read all about it at hyeholde.com).  On this particular spring evening we arrived at 6pm; there were 20 of us.  I was immediately taken with the grandness of the structure.  The building in which the restaurant is situated is truly majestic.   The house/castle is old, and adorned with most of its original materials, inside and out.  As I waited outside for the remaining guests to arrive, I was surprised that this restaurant was situated in such a rural area.
We entered the foyer, and I could tell that everyone, including myself, were truly impressed.  The stained wood in the entryway was beautiful and detailed.  There were a few oriental carpets on the floor, and candles were glimmering on the side tables.  Small bowls of cumin cashews were placed about; delicious.  Our hostess gathered our group and led us into another room for cocktails.  This area was equally remarkable.  There were bookshelves with what looked like first edition novels, old oil paintings, and fresh flowers; it had the warmth and likeability of someone's home.
We were shown to a private dining area with large windows, and took our seats.  Our room was the perfect size for us, just enough space to feel intimate, but not so large that we felt disconnected.  As we glanced outside, we admired the perfectly groomed grounds.  There was a small garden, and freshly cut green grass.
The food was well prepared, and presented with great care.  We enjoyed a Spring Greens Salad to start, then Wild Boar Rids, Filet, Atlantic Salmon, and Chilean Sea Bass, and Herbed Chicken.  I had an opportunity to try most of the dishes and they were all delicious.  The desserts were equally impressive.
The Hyeholde is a special restaurant.  From the time you enter the grounds, you feel as if you stepped back in history.  Next time you have a special occasion to celebrate, take a trip to the country and visit this majestic, magical place.
Hyeholde Restaurant
www.hyeholde.com
1516 Coraopolis Heights Road
Coraopolis, PA 15108
(412) 264-3116