Park Bruge, Pittsburgh, PA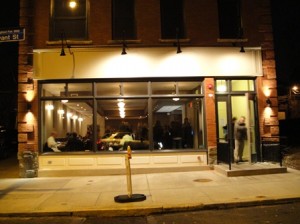 Park Bruge, Pittsburgh, PA 
Since its opening in Point Breeze, I've been a big fan of Point Brugge Restaurant. When I heard that the owners and chef of that establishment were opening a new place in Highland Park, I was excited to try the food.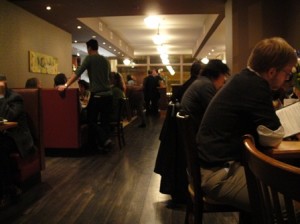 We arrived at Park Bruge close to 6pm, and there was already a nice crowd. Clearly, the word had spread that good food was being served in the Morningside/Highland Park area, and loyal patrons to Point Brugge (located in Point Breeze) , as well as newbies were already enjoying the fare. Although Park Bruge had only been open for a month, it was already starting to attract a loyal following.
Décor/Ambiance
Park Bruge restaurant isn't overly-decorated. There is a large window on the front of the building that lets passers-by know there's something going on inside. At present, there's no sign either; but this didn't seem to dissuade people from finding its location.
Upon entering, you will see a small bar on the right hand side- during our visit it was crowded with hungry customers waiting for a table, as well as people enjoying good Belgian beers and imported wines. The interior can best be described as modern, and understated; a perfect combination for a place that serves simply prepared clean food. There is ample lighting, but things aren't too bright, which means you can read your menu without having to find your glasses, or a spare flashlight. Tables and booths are carefully arranged in the dining room providing plenty of room for the wait staff and patrons to move about.
Food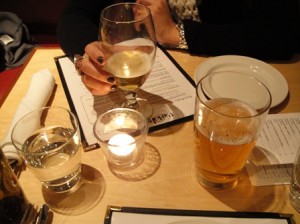 We got a few beers, and looked over the menu. Of course we ordered the mussels which arrived in a thin garlicky broth, and fresh bread. The mussels were fresh, and tasted like the ocean. My dinner companion asked, "Where else can you get mussels this good?" I didn't have an answer. We devoured or seafood, and listened to our server tell us about the specials.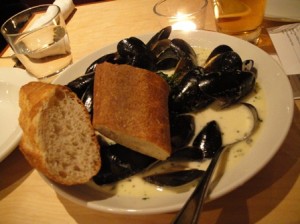 One of the items was a striped bass; not something you see on most menus in the Pittsburgh area. Although the bass sounded tempting, I ordered a burger with cheddar and homemade coleslaw. We also chose the seared pork chop with potatoes, tomatoes, and gingered apples. Our dinners arrived within minutes, and we quickly dug in. The burger was good (just like those at Point Brugge). The coleslaw was fresh, and not gooped-up with extra mayonnaise. The portion was a nice size, but not too big; perfect to satisfy my appetite. The beef was seasoned, and cooked to my specifications. The pork was succulent and not over-done. If you've had moist-free pork chops in the past, you'll be pleasantly surprised at the tenderness of these chops. The chived-mashed potatoes were creamy, and there was a nice hint of ginger that complimented the natural sweetness of the pork.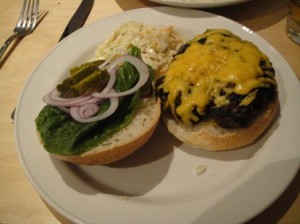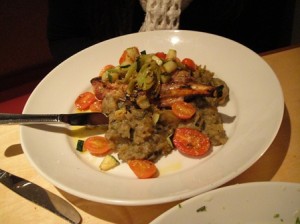 Service
The service at park Bruge was stellar. Our every need was met with a smile, and the waitstaff was courteous and competent.
Cost
Prices at Park Bruge are reasonable. Appetizers start around $8.00. Entrees begin at the $12.00 to $14.00 range, and can go up to $28.00 depending on the nightly specials.
Conclusion
The owners of Park Bruge clearly have another hit on their hands. A combination of talent in the kitchen, an excellent selection of Belgian beers and imported wines, and a fun environment will surely have hungry patrons coming back for more.
Chef Chuck Kerber
Cooksandeats.com
chuck@cooksandeats.com