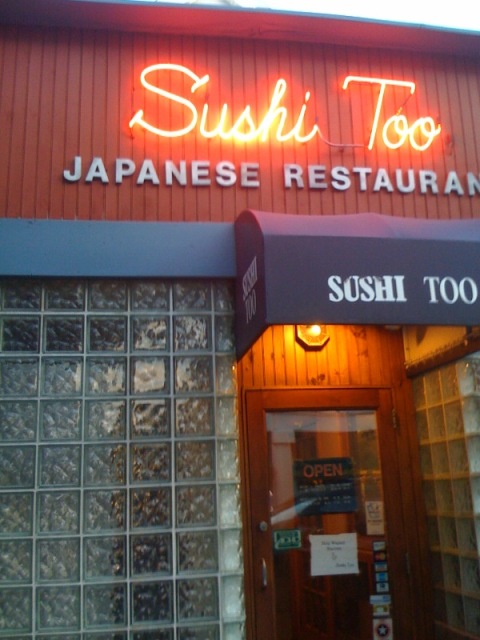 I like sushi. I'm no Jeremy Piven, but I do enjoy some raw fish, seaweed and rice from time to time. Sushi Too in Shadyside has a loyal following. The residents of the small neighborhood have mostly favorable things to say about the small restaurant, so my dinner mate and I decided to give it a try.
We arrived at 7:30 PM on a Wednesday. It had been several hours since I had a meal, so I was looking forward to getting some food in my belly, and FAST. As we entered Sushi Too, we were welcomed by a hostess, and what I assume was one of the owners. On our way to the table, we walked by the sushi bar. There were a few patrons there, but I was really looking at the fish- was it fresh? Was there adequate refrigeration at the sushi bar, or was the protein being exposed to unsafe temperatures? Everything looked good to me, but the sushi chefs were wearing gloves…do the chefs in Japan wear gloves while preparing their sushi? I think not!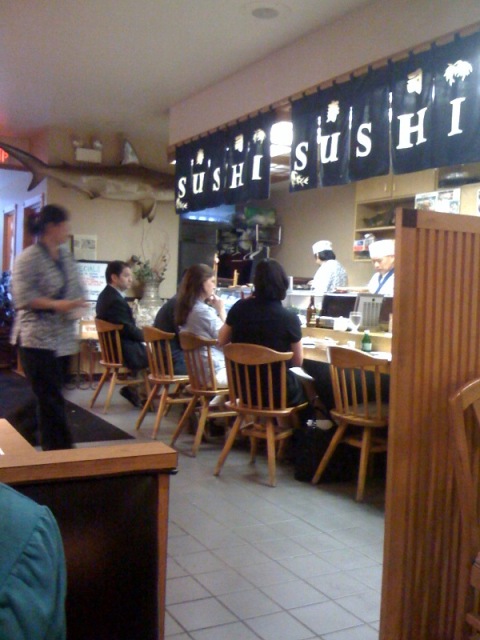 There were a few other late diners, maybe a dozen in all. We waited a few minutes for our waitress to arrive, ordered drinks, and looked over the menu. The deluxe platter looked good, for $38.00 you get: (4) pieces of their Pittsburgh Roll, (6) pieces of the California roll, (2) salmon roe, (2) squid, (2) yellowtail, two tuna, (2) salmon, (2) eel, and (2) white fish. Also included; soup and salad. Our soup and salad arrived first. We tried the sesame, and the ginger dressing. The salads were excellent, and contained iceberg lettuce, shredded carrots, cucumbers, and Edamame beans. The soup was equally good- sweet miso broth with soft tofu cubes, and scallions.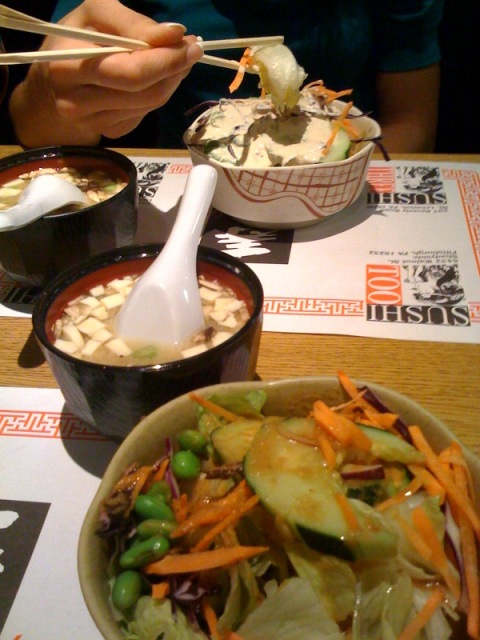 As we were finishing up our soup and salad, the entrée arrived. The sushi looked picture-perfect, and we were excited to try our sashimi. We mixed our wasabi and soy sauce, grabbed the chopsticks and dug in. My first piece was the salmon roll. It tasted fresh, but the rice was gummy. I'm not sure if you've ever experienced this, but if your first piece of sushi tastes suspect, a strange phenomenon occurs… you start worrying about how long the rice has been sitting out… then, one worried image transforms into a myriad of concerns. My contorted face concerned my dinner-mate, "what's wrong?" she asked. "Nothing, it just tastes strange." Uh-oh. We both looked at the salmon roe sushi; the large fish eggs gleamed in the fluorescent light- suddenly it seemed like a bad choice. "Can we please change out these salmon roe rolls for a few additional tuna rolls?" Our waitress assured us it was no problem, but she looked annoyed. By the time our tuna rolls came I was losing my appetite. I glanced across the table at my friend and noticed her poking at a piece of white protein. "What is this?" she asked. "It looks like squid." As I watched her continue to poke at the rubbery squid, I decided I was done with my meal.
I'm not sure what happened at Sushi Too. Maybe it was my delirium affecting my ability to be objective about this meal. Maybe it was something else, I just can't be sure. I'd like to take give Sushi Too another try…next time I might go for a noodle or veggie dish.
Questions or comments mail the chef at: chuck@cooksandeats.com
Sushi Too
www.sushitoo.net
5432 Walnut Street Pittsburgh, PA 15232 (412) 687-8744