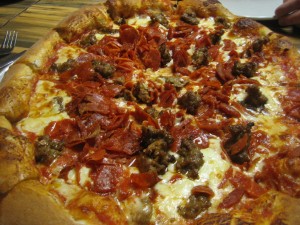 Vincent's Pizza Park, Ardmore Boulevard
I've had the opportunity to eat many Vincent's Pizzas over the past several years. Most people have heard of these pies- they stand alone, believe me. So, what makes these pizzas exceptional, or different? Let me explain. If you're going to pick up your pie, it comes on a cardboard slab, covered with butcher paper, with each of the ends stapled. When you pick up your pizza, you'll notice the excessive pool of grease that has settled in the center. Don't fret over the viscous fat that has collected at the tips of your slices, as it is perfect for dipping your crust into. Besides the copious amounts of fat, you will also notice that the pepperoni is sliced thick. These thick slices of meat become crisp when baked in the oven- nice. The tomato sauce that lay beneath the cheese and other toppings is tangy, and fresh. The sauce isn't too sweet, and doesn't overwhelm the soft taste of vegetables if you choose to have them on your pie.
Eating at the restaurant is an interesting experience. If you arrive after 6pm, it's likely that you will have to wait for a table. If you're looking for a clean atmosphere, you'll be disappointed. The night that we had dinner at Vincent's, the table and floors were dirty, and the staff didn't seem very interested in tidying things.
The service at Vincent's is average. Because they are so busy, wait times can be lengthy.
Prices range between $10.00 and $15.00. If you order a large pie with many toppings, be expected to pay over $25.00. Besides pizza, Vincent's also have salads, and sandwiches. Although I have never eaten these other selections, I hear that are equally as good.
If you love pizza (and who doesn't?) you must give Vincent's a try.
Chef Chuck Kerber
chuck@cooksandeats.com
Vincent's Pizza Park  
(412) 271-9181
Wilkinsburg
998 Ardmore Blvd Pittsburgh, PA
15221